Among younger and older, crispy toasts are considered one of the favorite morning meals for being delicious and a short-cut breakfast! But preparing it can still break your sweat if you're not well aware of the right equipment. For instance, if you don't have an efficient toaster, then you'll end up with nothing but some uneven slices of toast!
Put a smile on your face as I've come up today with the Ariete toaster review. Not only it'll complement your kitchen with its alluring outlook, but it'll also give you 6 browning levels, 4 unique functions, an analog dial option, and many more benefits.
So, are you finding it a premium choice to meet your requirements? Well, go through the review to learn more about it.
Quick Specifications of the Ariete Toaster
| | |
| --- | --- |
| Color Options | 3 (e.g. green, blue, and beige) |
| Item Weight | 3.17 pounds |
| Product Dimension | 7.87 x 7.48 x 11.81 inches |
| Voltage | 230V |
| Wattage/Power | 810W |
| Browning Levels | 6 |
| Total Functions | 4 (e.g. bagel, defrost, reheat, and cancel) |
| Analog Dial Option | Included |
| Dark-to-light Indicator | Included |
| Automatic Shut-off Feature | Not Included |
In-Depth Review of the Ariete Toaster
Without moving on to the detailed features, you can't get to know why you should rely on the Ariete Toaster instead of its other competitors. So let's dive in –
Impressive Outlook
Hands down, the outer appearance of the Ariete Toaster is what makes it completely stand out from the crowd. Coming in 3 jaw-dropping colors (e.g. green, blue, & beige), it's also well-known for its classy "retro design." I can rest assured that you'll have a premium feel after touching it, thanks to the sleek body it shows off!
So, to complement either your dining table or kitchen countertop, Arite Toaster is definitely a better choice.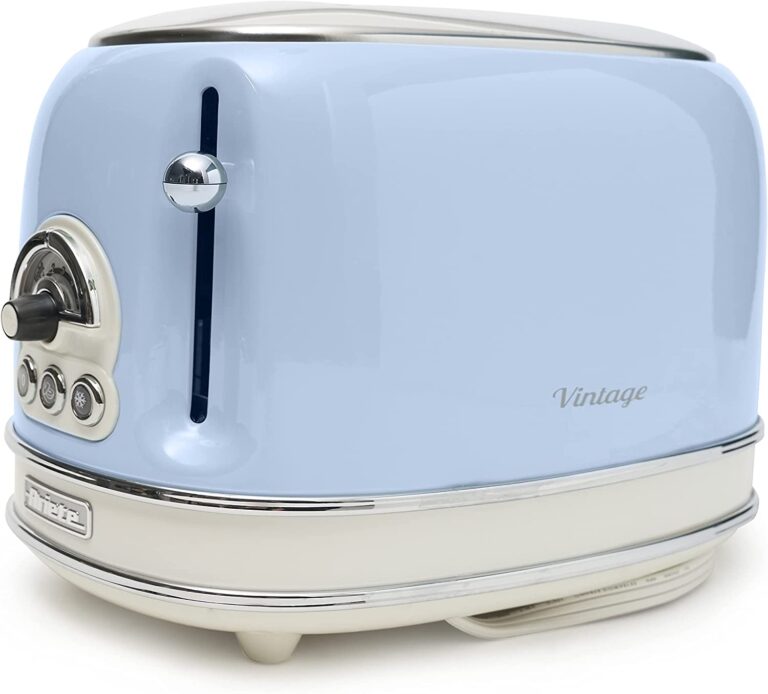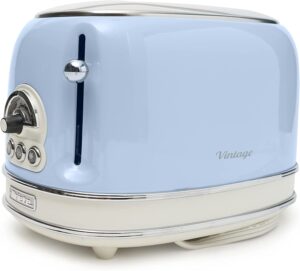 Build Quality
The term "beauty with beast" highly suits the Ariete Toaster, guess why? Well, this is because, unlike the typical toasters, the maker has used top-class outer walls made of premium stainless steel. Thus, it confirms 2x more durability than its competitors.
Including that, you'll get to notice anti-slip feet on the bottom of the Ariete Toaster, which assist in keeping the device well-protected against sliding or slipping issues. So no matter what, this wonderful toaster can ensure adequate stability on almost every surface, like kitchen countertops, tables, cabinets, and so on.
Several Browning Levels
What if you can achieve the crunchy toast in the way you desire for? Well, it only happens when your toaster features multiple browning levels. From one to six, the Ariete Toaster comes in numerous browning levels to choose from. As a result, nobody can stop you from having the most delicious toast you're craving for! At a time, you can put 2 slices together.
On top of that, you're allowed to function the Ariete toaster in 4 different options, including bagel, defrost, reheat, and cancel. Overall, it gives you as much precision as needed to achieve the most suitable toasts.
Easy-Peasy Cleaning
If I talk about a toaster, many people find it difficult to clean it up after each use. But guess what? The Ariete Toaster has featured an efficient crumb tray that is removable for your convenience. It assists users in keeping the tool spick-and-span by eliminating stray crumbs in the best way possible. Simply take off the tray, cast away the dust, and then you're good to go!
As for cleaning up the outer part of this toaster, wiping or spot cleaning is more than enough to keep it tidy. No need to use anything wet as it may ruin the electrical parts of the machine.
Lightweight Structure for Portability
Last but certainly not least, the Ariete Toaster seems to be much lighter in weight, being only 3.17 pounds. Because of the portability, users will find it so easy to carry, transfer, and maneuver. So even if you're on a trip, you won't have to miss your morning breakfast with multiple slices of yummy-crispy toast!
What Could Have Been Better?
Every product has its own specialties, advantages, and drawbacks. So there is no exception for the Ariete Toaster! Here, I've listed some things that could be better –
Gets Overheated At Times
After a couple of constant uses, some customers claimed they found the toaster a tad bit hot. But it only happens when you tend to use it constantly without any rest. Indeed, overheating issues can't be a huge drawback unless you're in search of a toaster for commercial purposes Ariete toaster review .
As a result, if your purpose in buying a toaster is only for personal use, just go for it and make sure to give it a short break after each use. This is how you can ultimately get rid of the issues regarding overheating.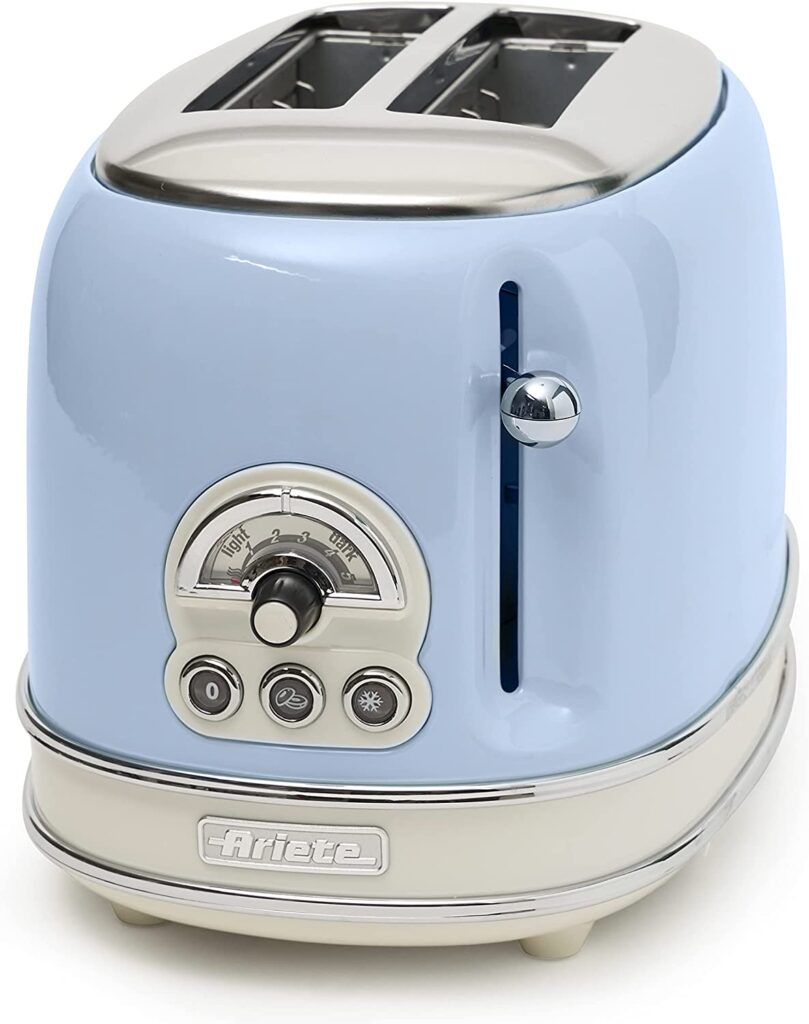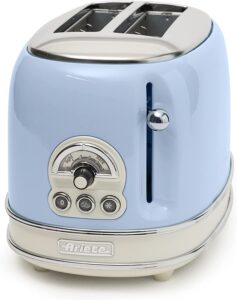 Costly for Some People
Even though I personally found its price pretty much reasonable considering its outstanding design and functionality, many customers claimed it to be a little pricey. I don't think it's going to give you a panic attack if you're fully prepared to spend high on a top-notch toaster, what do you think, eh?
Frequently Asked Questions (F.A.Q's):
Can Ariete toaster make 4 slices at once?
No, it can only give you 2 slices of toast at a time. You'll find them well-prepared and so crunchy.
How long does the Ariete toaster last?
Just like an average toaster of the current market, the Ariete toaster will last for around 3-8 years, although the longevity highly depends on your usage, care, and overall maintenance.
What If the machine of Ariete toaster gets excessively hot?
If you run the toaster maintaining consistency (e.g. giving a short break after each action), then it is less likely to get overheated. However, if you still find it excessively hot, consult the seller or an expert straight away.
Conclusion
Those days are gone when you had to complete your breakfast with unevenly-cooked toasts! As the generation is getting smarter, technology is also getting smarter day by day. And the Ariete Toaster is one of its blessings!
Through the Ariete toaster review, I tried to disclose its specialties and some of the common drawbacks that you can easily overlook. Especially, its bagel button eliminates guesswork by offering the flawless, freshly sliced, and crispy toaster that you crave. Trust me, you'll love it!
Make sure this fits by entering your model number.
【Bake and Eat in Safety】The Keenstone retro toaster 2 slice is made with the highest quality 18/8 stainless steel, which is durable, non-toxic, BPA-free and safe to use with different kinds of bread. The metal cool-touch housing and practical functions make toasting easier and faster while ensuring a rapid cool off for safe use.
【Delicious Toast to Your Liking】The Keenstone bread toaster features 6 browning settings for delicious toasted bread for all preferences and tastes.
Buy Now