Keeping all the nooks and crannies of your kitchen tidy isn't a big deal. But what if you have lots of different kitchen knives and shears, and there is no specific space to store them? Unless you have a particular knife block, it'll be tough to keep them organized.
But the problem is – the current market loads thousands of different models of blocks, including numerous specs, pros, and cons. Among them, I've got the 360 knife block that is stylish, durable, and able to hold multiple knives together!
For more details, let's start reading the detailed 360 knife block review I've shared on it right here.
In-Depth Reviews of 360 Knife Block
Here, I'm going to describe some of the core features of the 360 knife block, helping you understand why it deserves to stay on your "top-priority list."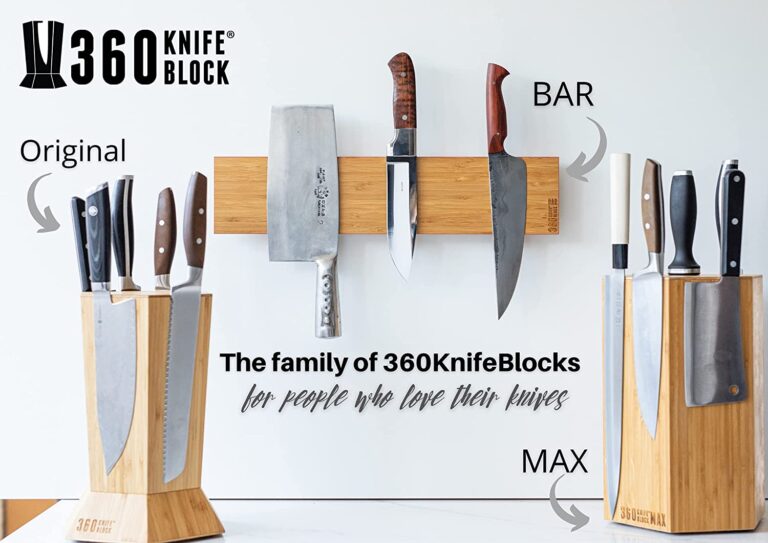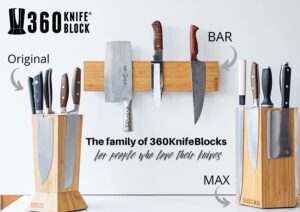 Excellent Holding Capacity
The purpose of purchasing a knife block is to keep several knives together in place. So it makes sense that everyone would like to spend on it that is able to hold multiple knives or kitchen shears at once.
Luckily, this is what the 360 knife block comes in. As you can see, it looks pretty spacious, allowing it to capture around 6-12 knives with different shapes and styles. Each side holds not less than 3 pieces of kitchen knives/shears.
Consequently, users get the freedom of keeping the most-used knives and shears right here according to their preferences. Moreover, it assists you in showcasing the blade for hassle-free identification. Thus, you can pick up the desired one needed for the task you perform.
Top-notch Construction
Carefully handmade in America, the 360 knife block features high-quality solid wood. The manufacturer claimed it to be walnut to ensure quality and durability at the same time. In total, you can find up to 16 joint sections, which can give you a hint on how the maker has made it with proper care!
After getting your hands on it, I can rest assured that you'll have a premium feel for its outstanding build quality. It not only looks beautiful but confirms excellent stability and longevity also, even after getting in contact with moderately wet kitchen knives.
What's more? Speaking of the base, it features 10-pound solid steel with a combination of cork padding. As a result, it will stay firmly attached to the surface where you want to keep it, including the tabletop, kitchen countertop, upper cabinet, and stuff like that.
And no need to worry about the power of neodymium magnets as they are much strong to do the job of holding a couple of knives together. With a total of thirty magnets, each side consists of five magnets. The middle part stands for grabbing kitchen shears, while the bottom offers a space for heavier knives.
Thankfully, the block will help you store almost every essential knife you use on a regular basis, like a chef knife, paring knife, bread knife, or carving knife.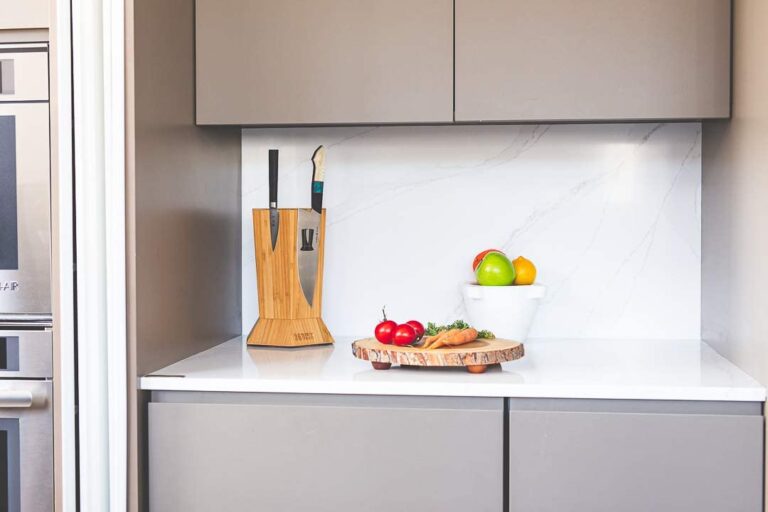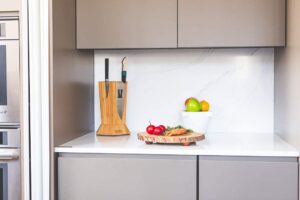 Hassle-free Cleaning
For being top-class in terms of construction, it's going to be a snap to clean the 360 knife block. You're allowed to scrub down the outer part of the block using soapy and lukewarm water. In order to keep it tidy for long, I'd suggest wiping down the knife block after every 3-5 days with a piece of damp clean cloth.
Once you clean it using something wet, make sure to get it completely dry. It's okay to utilize an extra towel or something like that. As you can see, there's no need to apply any complex steps to get the work done!
Lightweight Design
Weighing nearly 14.0 pounds, you'll find the 360 knife block much light in weight. This will help you transfer it easily from your room to your kitchen. In addition, a lightweight block is also easier to clean up and maintain.
What Could Have Been Better?
Here, I've listed some of the drawbacks you may find in the 360 knife block:
Too Pricey
To be honest, it's going to be a significant drawback for those who are unable to spend a fortune on a top-class knife block. On account of its brand value, durability, longevity, and style, the 360 knife block will cost you higher than some of the standard choices out there. But unless you have budget issues, it won't be a problem for you, I guess.
Can't Hold Sharpening Tools
Even though this knife block can hold almost every type of knife and kitchen shear, you won't find it as tall as needed to capture sharpening tools. So if you want to buy a block to store sharpening equipment along with the kitchen knives, then this shouldn't be your prime choice.
Frequently Asked Questions (F.A.Q's):
Can I use a scraper during a knife block clean-up?
It's okay and sometimes recommended to take assistance from scrapers in terms of eliminating soap and moisture from the block while cleaning it. After using that, you can wipe the knife block down using a piece of dry cloth. 360 knife block review
Does a 360 knife block blunt kitchen knives?
Although some dirt-cheap wooden blocks may blunt knives, this isn't going to happen with the 360 knife block, thanks to its precise and smooth build quality.
Which is better: a magnetic strip or a knife block?
If I talk about myself, a knife block is always a go-to choice for being stylish and long-lasting. Moreover, it offers the ultimate protection for each corner of the knife's blade. So, there is less chance of ending up with blunting issues if you rely on a specific block.
Conclusion
For almost every homeowner, a knife block is considered part and parcel of the kitchen. This single thing can play an essential role in keeping several knives accordingly. Thus, it not only gives your kitchen a tidy look but also helps you keep the most-used knives in place so that you can get any of them while needed.
Through the 360 knife block review, I tried to share all of its unique features to let you know why it stands out from its competitors. Although it's a bit steep, the customers claimed it to be so durable and long-lasting.
Make sure this fits by entering your model number.
Featured in the New York Times holiday gift guide 2017 & Tested by Cook's Illustrated in November 2016
Holds between 6 to 14 different style of knives (up to 3 on one side) including kitchen sheers and any other metal tool. Perfect to mix and match your most used items with easy 360 access. Showcases the blade for easy identification, grab the correct knife for the specific task every time
Buy Now