Craving some strawberry cheesecake cookies? There's no helping yourself when it comes to moist, creamy, and fluffy strawberry cheesecake cookies. And what better way to enjoy it than making a fresh homemade batch yourself? 
With only egg, butter, cream cheese, and strawberry, and our easy-to-follow recipe, you'll make these delicious cookies in no time! 
Ingredients Required for Strawberry Cheesecake Cookies
In order to make yummy strawberry cheesecake cookies, all you'll need are easy-cooking ingredients that are more or less available all the time in your kitchen. 
The following ingredients and measurements are for 12 large cookies or 18 medium-sized cookies. 
Here's a quick glance at the ingredients and their measurements:
| Ingredient | Measurement |
| --- | --- |
| All-purpose flour | 2 1/2 cups or 300 grams |
| Baking soda | 1 tablespoon or 6 grams |
| Baking powder | 1/2 tablespoon or 2 grams |
| Salt | 1/4 teaspoon |
| Unsalted butter | 1 cup or 215 grams |
| Cream cheese | 8 oz or 215 grams |
| Powdered sugar | 1 cup or 200 grams |
| Sugar (for cookie filling) | 2/3 cup or 90 grams |
| Eggs | 2 beaten |
| Vanilla extract | 1 tablespoon or  2 grams |
| Strawberries | 1 cup or 200 grams  |
You'll need 2.5 cups (300 grams) of all-purpose flour. Or you can also use gluten-free flour.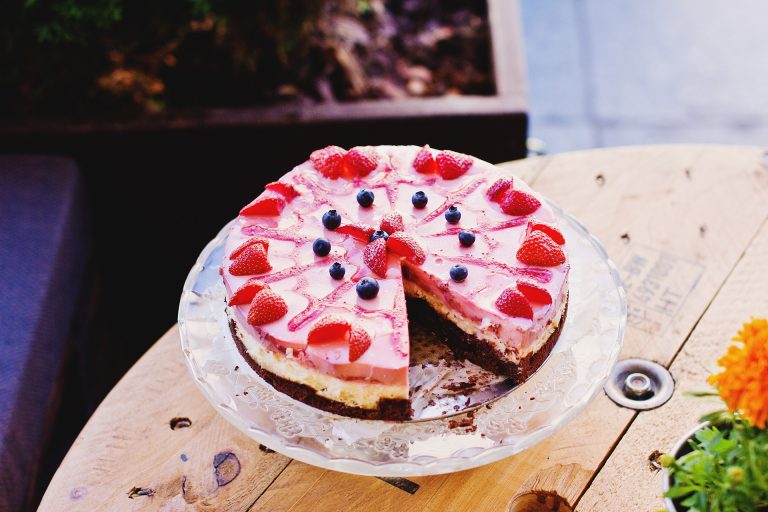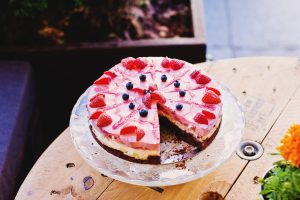 Baking Powder and Baking Soda
One tablespoon (6 grams) of baking soda and half a tablespoon (2 grams) of baking powder will be required to make the base for the cookie dough.
One-fourth (1/4th) salt.
But if you're using salted butter, extra salt isn't necessary. 
One cup or 215 grams of unsalted butter and it must be cold or used straight out of the fridge, as softened butter makes cookies break or become brittle while baking.
To make the cheese filling, you can use regular or dairy-free cream cheese. You'll need 8 oz or 215 grams of cream cheese. If it's frozen or chilled, warm it up to room temperature to soften it for the mix. 
For the coating, you'll require 1 cup or 200 grams of powdered sugar. And for the cookie filling, 2/3rd cup or 90 grams of sugar is perfect. You can use brown sugar as an alternative.
Two beaten eggs will be needed for the cookie dough. If you don't want to use eggs, applesauce is an excellent vegetarian alternative to eggs. Use 1/4th cup of unsweetened applesauce.
One tablespoon (2 grams) of vanilla extract for enhancing aroma and flavor. 
It's best to use a cup (200 grams) of fresh strawberries, as frozen strawberries contain too much liquid, which will break up the dough. 
If you plan to use frozen strawberries, make sure they are completely thawed, pat them with paper towels and sprinkle a bit of salt to remove extra moisture. 
You can also use strawberry jam for the filling if you can't happen to find fresh strawberries.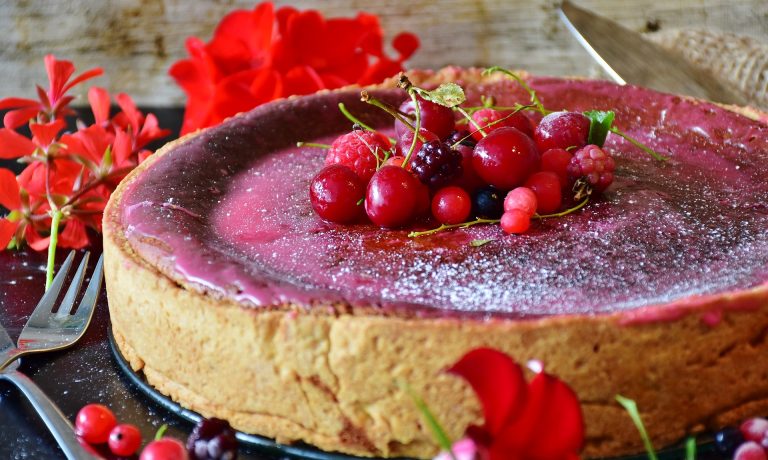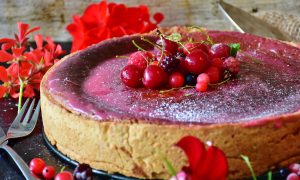 How to Make Strawberry Cheesecake Cookies
Follow our stepwise instructions to make the perfectly delicious strawberry cheesecake cookies:
Step 1
Preheat your oven to 350°F (180°C) and line a baking tray using a parchment paper.
Step 2
In a medium bowl, whisk together the flour, baking soda, baking powder, and salt.
Step 3
In a separate bowl, mix together cold unsalted butter and creamed cheese with an electric mixer or beater until it becomes smooth and fluffy..
Step 4
Gradually add the sugar to the cream cheese mix, and mix until light and fluffy.
Step 5
Add the beaten eggs and vanilla extract to the wet mixture and beat until well combined.
Step 6
Slowly add the flour mixture to the egg and cream cheese mix while stirring until they combine evenly . Once the dough mix smoothens, leave it to chill for 15 to 20 minutes.
Step 7
Fold in the chopped strawberries, being careful not to overmix. Or, you can make a separate filling with chopped strawberries and cream cheese.
Step 8
Drop the dough onto the prepared baking sheet using a cookie scoop or spoon.  
If you've made a separate strawberry cream cheese filling, use a piping bag to fill the center of the dough mix with just a dollop and cover it up with a small layer of dough mix.
Step 9
Bake for 10-12 minutes or until edges are lightly golden brown.
Step 10
Remove from oven and allow the cookies to cool for 5 minutes before transferring them to a wire rack to cool completely.
And voila! Your creamy and delicious cookies are made. You can store them in jars to eat later or serve them hot with a cup of milk. Either tastes great!
Extra Tips to Bake Strawberry Cheescake Cookies
Follow these extra measures for a perfect batch of strawberry cheesecake cookies:
Softening cream cheese makes it easier to blend and result in a smoother batter.

However, butter shouldn't be softened too much. It's best to use slightly cool, or room temperature butter or cookie dough won't hold together.

Overmixing the batter can cause the cookies to become tough. Mix just until the ingredients are combined.

Chilling the dough for at least 20 minutes helps the cookies hold their shape and prevents them from spreading too much while baking.

Before baking, use a fork to gently press down on cookies to create a flatter surface for the cheesecake filling.

It's best to eat the cookies while they're warm and soft, but you can store them in an airtight container in the refrigerator for up to five days.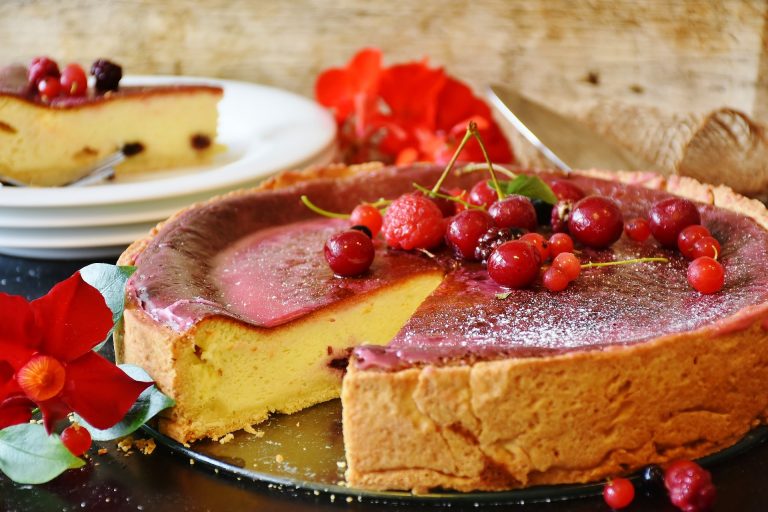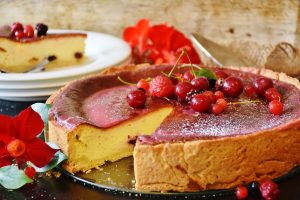 Strawberry Cheesecake Cookies Nutritional Facts
Take a look at the nutritional facts for the measured amounts of ingredients used in this recipe:
Ingredient

Amount

Calories

Total Fat (g)

Saturated Fat (g)

Cholesterol (mg)

Sodium (mg)

Total Carbohydrates (g)

Dietary Fiber (g)

Sugars (g)

Protein (g)

All

–

purpose

flour

2 1/2 cups

950

3.5

2

0

300

200

7

0

20

Baking soda

1 tbsp

0

0

0

0

1250

0

0

0

0

Baking powder

1/2 tbsp

2

0

0

0

276

0

0

0

0

Salt

1/4 tsp

0

0

0

0

582

0

0

0

0

Unsalted butter

1 cup

1628

184

116

488

27

0

0

0

2

Cream cheese

8 oz

802

82

52

244

602

5

0

5

16

Powdered sugar

1 cup

386

0

0

0

2

99

0

97

0

Sugar (for filling)

2/3 cup

454

0

0

0

0

117

0

117

0

Eggs

2 

144

10

3

372

142

1

0

1

12

Vanilla extract

1 tbsp

12

0

0

0

0

0

0

0

0

Strawberries

1 cup

49

0

0

0

2

12

3

7

1
FAQs
Can I use frozen strawberries instead of fresh ones?
You may use frozen strawberries, but it's always better to use fresh ones. Just make sure to thaw them first and drain off any excess liquid before using them in the recipe.
Can I substitute the all-purpose flour with another type of flour?
It's possible to substitute all-purpose flour with other flour, such as almond or coconut flour. However, keep in mind that the texture and taste of cookies may differ slightly.
Can I make the cookies without cream cheese?
Cream cheese is an essential ingredient in this recipe as it gives the cookies their creamy and tangy flavor. 
If you don't have cream cheese, you can try substituting it with Greek yogurt or sour cream, but they'll taste somewhat sour, and texture will be a bit runny.
Final Words
Whether you're a fan of cheesecake or just looking for a new twist on classic cookies, our strawberry cheesecake cookie recipe is definitely worth a try. 
This recipe is easy to follow and produces a delicious, melt-in-your-mouth cookie that is perfect for any occasion with just simple baking ingredients.