Are you a snack lover? Even if you're not, there's always the time when you crave quick snacks that can satisfy your hunger. Maybe your kids are demanding appetizers, having a small party or there are guests over who'd love some crispy foods.
In these cases, jalapeno poppers are the best. Because even if this item is a snack, it's healthy! Also, it's a snack that even vegetarians can dine in, so it's suitable for everyone at your party.
But how exactly do you cook frozen Jalapeno poppers in air fryer? Well, the process is super easy. Put the poppers in the air fryer and wait! Let's get to know how to cook this crowd-pleaser snack in detail.
Ingredients & Tools
Before you start your cooking, make sure you've got all the ingredients and tools by your side.
For ingredients, you'll need:
Frozen jalapeno poppers

Dipping sauce
For tools, you'll need:
An air fryer

Pair of kitchen tongs

A plate

Perforated parchment paper (optional)
You can also try making jalapeno poppers from scratch using mouth-watering ingredients. If you are a vegan, a jalapeno popper recipe from The Washington Post is a good one that you can try. And if you're okay with exploring new ingredients, this recipe according to Fox News can be a great option!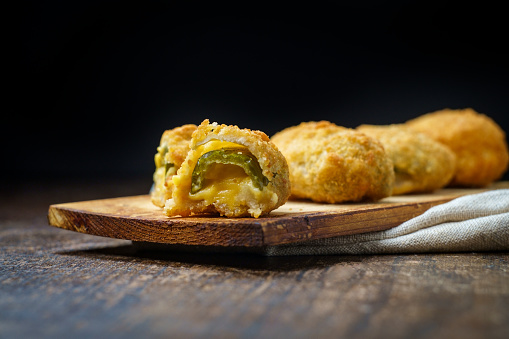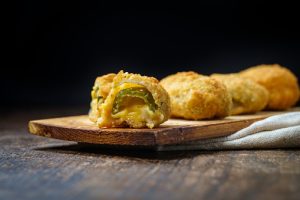 Step-by-Step Instructions to Prepare Frozen Jalapeno Poppers
Cooking the frozen jalapeno poppers in the air fryer is easier than anyone can imagine. So, without any delay, let's see how to calm down your cravings with just a few steps!
First, set the temperature to 360-380° Fahrenheit on your air fryer for preheating.

When your air fryer is hot and ready, place some of the jalapeno poppers inside the basket. Make sure to leave space between them to let air properly circulate around the poppers and make them crispy.

If you preheat the fryer to 380° Fahrenheit, then you'll need to keep the poppers inside for 5 minutes. Otherwise, if you pre-heated for 360-370° Fahrenheit, keep the poppers inside for a few more minutes.

After that, you'll need to turn the poppers upside down and cook for 4 to 7 minutes more. Your poppers should be golden brown by this time and the cheese will start to ooze out.

Once the jalapeno poppers are cooked properly, you'll need to take them out using kitchen tongs and put on a plate to cool down for several minutes. Then take a jalapeno popper and taste it.

If your jalapeno poppers are satisfactory, make all the batches of poppers in the same way and at the same time. But if your poppers aren't very crispy, keep the next batches in the fryer for more minutes. And if the poppers are a bit burned, you can try to cook them for less time.

Serve the jalapeno poppers on their own or with any dipping sauce.
Tips & Tricks to Improve Poppers Taste
Every time you're cooking the poppers, you have to remember some tips and tricks for the best output. Let's see what they are.
When you're cooking frozen Jalapeno poppers, don't let them in the air fryer for too long. Because the more you let the poppers be cooked, the cheese will ooze out.
You can't cook all of the poppers in the same way. Because depending on their sizes and brands all jalapeno poppers require different timing. Also, depending on the air fryer the cooking time changes. 
So, you should try to cook a small number of poppers first as a test run. When you're successful with the test batches to get the exact texture, let the whole batch be cooked in that way.
When cooking frozen Jalapeno peppers, try cooking several batches spreading out in a single layer. But don't stack poppers on top of each other, or the final poppers won't have the same texture all around.
In Frozen Jalapeno poppers, there is already residual oil in the crust from when the poppers were made by the manufacturers. So, there's no need to use extra oil in the air fryer, it'll be healthier that way.
When you're finished making the Jalapeno poppers, don't try to gulp them down. Because when the poppers first come out of your air fryer, the inside of the Jalapeno poppers is super hot, and you'll burn your tongue if you're not too cautious. 
Just control your cravings for a few minutes before dipping the poppers and eating them.
You can try using perforated parchment sheets in the air fryer before cooking frozen Jalapeno poppers. These sheets have small holes that let the air inside the fryer cook food more evenly, so your poppers will be crunchier.
Sometimes your poopers can pop and spill the cheese filling. Don't get worried, it happens and the poppers will still be delicious.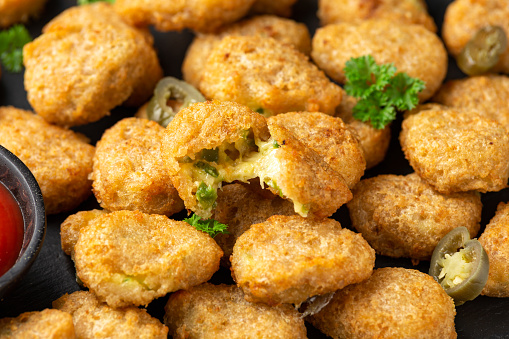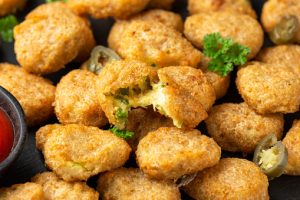 Dips Suitable with Jalapeno Poppers
Fried snacks taste better when you dip them in tasty sauces. However, not all combinations taste good. Let's see what kind of dips are good with the jalapeno poppers.
BBQ sauce

Cheese Dip

Marinara

Ranch Dressing or Dip

Tartar Sauce

Honey Mustard Dip

Sriracha Mayo

Vegetable Dip
How to Store Jalapeno Poppers
Before you want to store your leftover jalapeno poppers, make sure they have completely cooled down. When you're sure that the poppers are at room temperature, store them in an airtight container. Then you can store it in the fridge.
Make sure not to store the leftover jalapeno in the fridge for more than 3 days. It's not healthy that way. Also, if you store poppers when they aren't still cooled down completely, they will become soggy and no one wants to eat them.
FAQs
How do you air fry frozen jalapeno poppers that are wrapped in bacon?
Frozen jalapeno poppers that are wrapped in bacon need to be air fried at 375° Fahrenheit. You'll need to cook the batch for 12 to 14 minutes until you see the bacon become crispy and the cheese turns golden brown.
Where can I buy Jalapeno poppers?
Jalapeno poppers are mainly sold as a frozen snack. You can buy frozen jalapeno poppers in any mall. Just look for it in the frozen aisle near all other frozen appetizers.
 

Can I make my own Jalapeno poppers?
Yes, you can. Making your own Jalapeno poppers is easy, just cut the jalapenos, scoop the seed and use the ingredients before frying. You can pre-cook the items if you want soft poppers.
Conclusion
Jalapeno poppers can be the quickest solution to all your hunger troubles. The steps are simple and easy, but you have to be careful with them. 
Because if you miss any steps or miss any ingredients or the cooking time differs, the taste of the poppers will become very different.
If the snack tastes different than usual, you or your family are less likely to enjoy it, and even their appetite may ruin! So be careful while cooking the frozen Jalapeno poppers in air fryer and make the tummies happy!