If you're a fan of readymade meals, you must have heard of Aldi's Red Bag Chicken. It's one of the most popular frozen food items all over the world. 
Red bag chicken air fryer only takes 10-15 minutes depending on the dish you're making – the perfect meal idea for busy workaholics!
Some of the easiest red bag chicken meals include a fried chicken sandwich, chicken salad, chicken parmesan, and more. Keep reading to find out more about these tasty dishes!
Why Cook Red Bag Chicken in an Air Fryer?
Aldi's red bag chicken is frozen breaded chicken breast chicken that you can bake or fry as you wish. Even though the directions on the packaging say that you need to bake it for 40 minutes, there are much easier options.
Air fryers can help you make crispy and delicious red bag chicken meals in under 30 minutes! Preparing the chicken in an air fryer has many pros –
Cook the chicken immediately after taking it out of the freezer. When you're cooking in an air fryer, you don't have to worry about thawing.

Red bag chicken air fryer requires less oil than deep-fried dishes. You can now enjoy tasty dishes without worrying about your health.

You can come up with diverse dishes right at home. Air fryer red bag chicken has unlimited possibilities!
Easy Steps for Making Red Bag Chicken Air Fryer
To prepare Aldi's red bag chicken in the fastest and easiest way, you can follow some steps –
Gather your ingredients, you only need a packet of Aldi's red bag chicken and cooking spray!

Make sure to spray the cooking oil on both sides of the chicken breasts to have a crispy outside.

Carefully place the filets inside the air fryer, to ensure proper cooking – avoid stacking. Depending on the space, you can cook 2 or 3 filets at once.

Cook the filets at 370℉ for 10 minutes and then flip them over. Fry the sides for 2 or 3 minutes until they're cooked through.

To make sure that the chickens are cooked through, you can check the temperature. If it has reached 165℉, your filets are done!

If you want to cook a second batch, 7 minutes in the air fryer is enough since it's already preheated.
Cooking chicken breasts has never been easier. Aldi's red bag chicken air fryer saves you both time and effort – ensuring crispy and tasty chicken every time!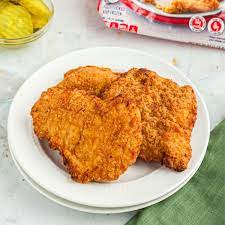 Delicious Meal Ideas for Red Bag Chicken
Now that you know how to prepare red bag chicken air fryers, it's time to check out some recipes!
You can find many tasty meal ideas on the internet, we have compiled some of the most popular ones to save you the trouble.
This is the easiest red bag chicken recipe that only takes minutes. Prepare your air-fried chicken breasts between two brioche buns, add tomatoes, lettuce, or any other condiment – and you're done!
You can give this dish your personal touch by adding a homemade sauce, cheese of your choice, and even scrambled egg.
If you're looking for a healthier meal, the chicken salad should be your pick. Firstly, slice the fried chicken breasts into bite-size pieces. You can add any vegetables you want but bell peppers, cucumbers, tomatoes, and lettuce work the best.
You can even add croutons, hard-boiled eggs, and bacon to spice things up. Lastly, toss everything with your favorite salad dressing.
Chicken parmesan is a classic dish made with spaghetti or pasta, tomato sauce, and a cheesy topping. Start with your choice of noodles or pasta, and top it with marinara sauce or a homemade special.
Place the crispy fried red bag chicken on top and cover with cheese. Then you can bake or broil it in the oven for the cheese to melt all over the dish.
This is an easy dinner idea for people who don't want to spend time on heavy meals. Serve your home-cooked fried rice, add the fried chicken breasts, some green veggies, and your favorite sauce – and voila!
The red bag chicken rice bowl is the perfect dish for a quick and easy dinner. You can add any condiments you like to make it interesting!
A delicious pick for a brunch is crispy Belgian-style waffles and air-fried red bag chicken filet. This combination works best with maple syrup, make sure to try it out!
If you're running short of time and want to grab a quick lunch, this is the perfect meal. Add sliced crispy chicken breasts to your wrap with tomatoes, lettuce, a ranch dressing – and that's a wrap!
For this dish, take a pita bread and coat it with pizza sauce. Add caramelized onions, shredded cheese, and cooked red bag chicken. Bake the pizza till the cheese melts, easy RBC pizza is ready!
Chicken pasta is a fairly simple dish and red bag chicken makes it even easier. Prepare your pasta like you usually do and add the crispy fried chicken as topping, toss it around with a creamy cheese and it's done.
You can always come up with your twists on these dishes or innovate them in your way. When you have a packet of red bag chicken and an air fryer at home – the possibilities are endless.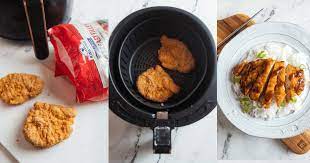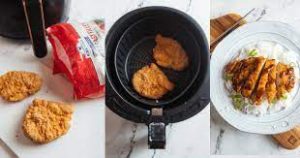 Frequently Asked Questions
How to store leftover red bag chicken?
Store the leftovers in an airtight container and you can keep them in the refrigerator for 3-5 days.
Why do Aldi's chicken bags have different colors?
Red bag chicken refers to Kirkwood breaded chicken breast filets, the yellow bag is honey battered chicken tenders, the green bag contains parmesan herb crusted chicken, and the orange bag is for buffalo style chicken strips.
Are red bag chickens fully cooked?
Yes, they are fully cooked and you can bake or air-fry the frozen filets.
Conclusion
Red bag chicken air fryer is undoubtedly one of the handiest frozen foods available – you can do so many variations with them!
Always make sure to clean your air fryer after preparing these meals as the leftover breadcrumbs can stick to the basket and damage it. Oiling your fryer before making the batches is also important.
Make the perfect use of these frozen red bag chicken breasts by incorporating them into your daily meals!