Chicken Marsala is one of the finest Italian delicacies that is cherished all around the world. It's a traditional dish with rich, creamy, and earthy flavors. 
Even though there's a wide range of sides that complement the dish, it's important to know what to serve with chicken marsala. A perfect side dish can take your homemade chicken marsala up a notch!
Garlic mashed potatoes, buttered noodles, brown rice, parmesan risotto, and jasmine rice – are some of the widely preferred side dishes to go with a savory meal like chicken marsala. However, you can always switch things up and give the meal your own twist!
For your convenience, we've compiled a list of elegant and easy-to-make side dishes to serve with your chicken marsala. If you want to try something new, check out world-class chef Gordon Ramsay's take on Chicken marsala!
Chicken Marsala – An Italian-American Classic
This mouthwatering dish features a few key ingredients, including thinly sliced chicken or chicken cutlets, mushrooms, and a creamy Marsala sauce. 
Firstly, the cremini mushrooms and chicken are cooked in butter until they are golden brown. A creamy sauce is prepared using Marsala wine, chicken stock, and butter. 
Even though it's a classic dish, there are many renditions of it prepared worldwide.
What to Serve With Chicken Marsala
Because of its simplicity, Chicken Marsala goes nicely with simple pasta meals. 
The dishes with a high moisture content go best with chicken marsala. These consist of foods like salads, steamed vegetables, mashed potatoes, rice, and pasta.
To make it fancier, you can pair it with garlic mashed potatoes, risotto, or brown or jasmine rice to turn it into a full-course meal.
The garlic mashed potatoes are rich and creamy, and they taste heavenly when paired with chicken marsala. A thick, earthy sauce is excellent for pairing with chicken marsala since it acts as a gravy for the garlic mashed potatoes.
 Since garlic adds a new dimension to the dish, you will never get tired of it!
A chicken marsala meal is wonderful with buttered noodles. The marsala sauce and the buttery flavor combine to provide a delicious dish that will leave you feeling thoroughly satisfied. 
This fluffy, light rice is ideal for soaking up the earthy, thick marsala sauce. You can prepare this gorgeous dish at home by following a few easy steps.
A rice cooker can come in handy and save you effort. You can also use an instant pot to save trouble. Rinse the rice, place it inside the pot, select 'manual cook' – and you're good to go!
The fragrant jasmine rice with a hint of lemon is perfect to go with your chicken marsala. This combination is sure to make anyone's day!
Brown rice and chicken marsala go together like bread and butter. The rice's savory and nutty flavors are perfect for the chicken. Moreover, the earthiness of the mushrooms in the sauce makes a burst of flavor.
To add some texture, you can have air-fried asparagus with the chicken marsala. Roast it in the fryer within a few minutes and top it with parmesan cheese!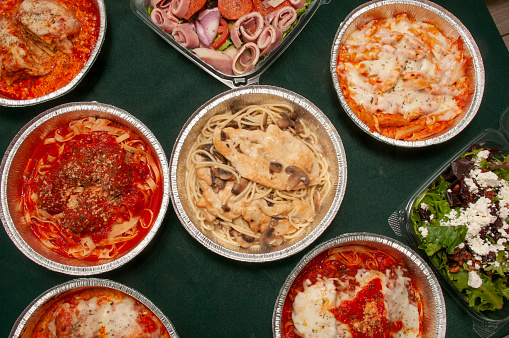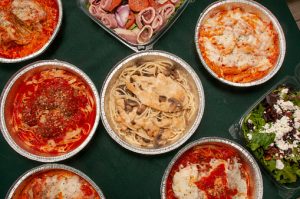 Parmesan risotto is an elegant Italian dish that's usually served with savory curries. The creamy rice in this parmesan risotto is full of flavor from the onion, butter, and parmesan, which complement the marsala sauce. It makes a delicious side dish for chicken marsala.
Want to include some green veggies alongside your chicken marsala but don't have enough time? Green beans are here to the rescue. You can cook them with onion, garlic, and butter – a simple yet delicious side dish prepared in just 10 minutes!
 Crispy garlic bread goes well with any Italian savory dish and chicken marsala is not an exception. You can simply dip the bread in the marsala sauce and indulge yourself in the creamy goodness. 
Thanks to technology, you can make garlic bread right at home in under 10 minutes using an air fryer.
 Baked sweet potatoes are a fantastic choice if you're looking for a filling side dish to go with your chicken marsala. They're naturally sweet and take on the rich, earthy flavor of the chicken marsala for a balanced and filling meal.
Grilled carrot is a classic side dish that requires minimum effort but will enhance the flavor of the chicken. You can grill them with butter and top off with herbs, honey, and onions.
If you're willing to put in that extra effort to make your chicken marsala meal special, handmade pasta is highly recommended. It's easier to prepare than most people think. Just a rolling pin is enough, you won't even need a pasta maker!
The texture of handmade pasta perfectly captures the luscious marsala sauce. While store-bought pasta is a great replacement too, handmade noodles have their own appeal.
To make your dish stand out, try thinking of different combinations. Think about unique veggies like broccolini, Brussels sprouts, or asparagus that will enhance the marsala sauce while adding some textural contrasts. 
Consider adding lightly spiced starches that can soak up the sauce and share the flavor, such as rice, potatoes, or bread.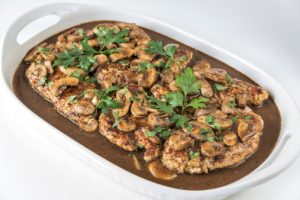 Frequently Asked Questions
Where does chicken marsala originate from?
It's an Italian-American dish, and the marsala sauce originated in Sicily.
Marsala wine is a fortified wine that is produced around the city of Marsala, Sicily. It's used widely in Italian dishes.
Marsala can range from being lightly sweet (dry) to extremely sweet, with a nutty, brown sugar flavor and hints of dried fruit. It has more alcohol than most wines because it is fortified with brandy, especially when it's stored for a long time.
Is chicken marsala a healthy dish?
In addition to being low in saturated fats, the chicken in this recipe is a great source of protein, vitamins, and minerals. This dish's gravy includes mushrooms, which are also rich in calcium and fiber.
Conclusion
Chicken Marsala is a versatile cuisine and a well-rounded side dish can really bring out its flavors. If you're wondering what to serve with chicken marsala, try one of the delicious recipes mentioned above! 
You can incorporate earthy sides to make the chicken the star of the meal. A fresh green salad can add texture to the dish and elevate the flavors – the possibilities are endless!