One delicious food contrary to homemade French fries is air-fried fingerling potatoes. You can quickly cook this dish at home within a short time. And you can enjoy this perfect side dish in your everyday meal or on special occasions.
However, besides the air fryer fingerling potatoes recipe, you can cook roasted fingerling potatoes and fingerling potatoes with parmesan. You will require certain ingredients and fingerling potatoes to cook these recipes. 3 Best Air Fryer Fingerling Potatoes Recipes
In today's guide, you will explore different recipes to cook fingerling potatoes in your air fryer. So, without further ado, let's dive into our today's main discussion:
3 Best Air Fryer Fingerling Potatoes Recipes
Fingerling potatoes are different from new potatoes, baby potatoes or creamers. They are a different potato type. The fingerling potatoes are of a long shape, and that's why it is named fingerling.
The texture of fingerling potatoes is firm enough. So, you can fry, boil, roast, or air fry these potatoes. Now we will tell you several fingerling potato recipes. So, keep reading!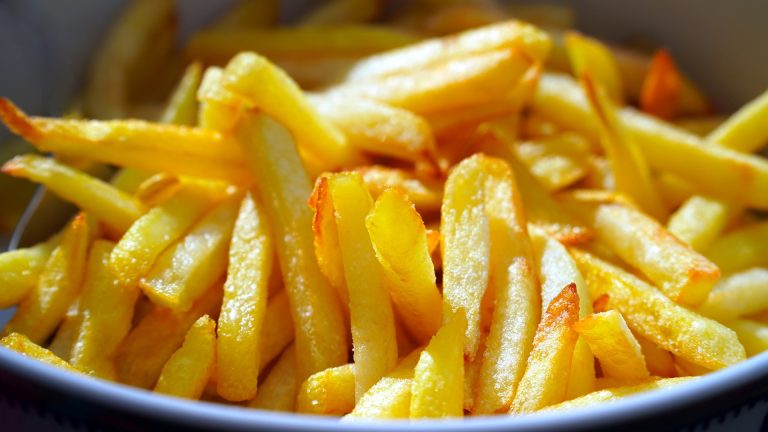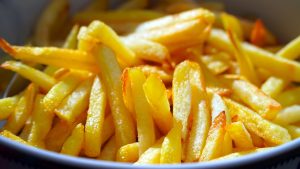 1. Air Fryer Fingerling Potatoes
After cooking in the air fryer, the fingerling potatoes become creamy and tender on the inside. But it's crispy on the outside. You can quickly cook this simple side dish for special occasions and everyday meals.
Ingredients
Olive oil – 1 tablespoon

Fingerling potatoes – 1 pound (Halved lengthwise)

Parsley flakes – ½ teaspoon

Ground paprika – ½ teaspoons

Garlic powder – ½ teaspoon

Ground black pepper and salt as required
Recipe
To make this meal at your home, you must follow the step-by-step instructions below:
Step 1: Preheat your air fryer to 200 degrees C or 400 degrees F.
Step 2: Take a large bowl and place potato halves in it. Then add paprika, garlic powder, olive oil, parsley, pepper, and salt and stir until it is coated evenly. After coating all these evenly, put the fingerling potatoes in your air fryer basket.
Step 3: For 10 minutes, cook the potatoes in your preheated air fryer. Cook and stir the potatoes until the desired crispness is reached. Once it becomes crispy, cook it for 5 minutes more.
This recipe of fingerling potatoes has an incredible nutrition combination. It has 4g fat, 120 calories, 2g protein and 20g carbs.
2. Roasted Air Fryer Fingerling Potatoes
It is another easy recipe that you can make with fingerling potatoes. The result of this recipe is also perfectly delicious and crispy. To cook this crispy, super flavorful food, you must gather the following items.
Ingredient
Olive oil

Lemon

Fingerling potatoes

Salt

Black pepper

Garlic powder

Freshly ground black pepper

Parsley
Depending on your requirement, you can use either dried or fresh parsley. However, add black pepper more if you prefer spicy food and want a mild flavor. And drop Tabasco sauce in it for Cajun flavor.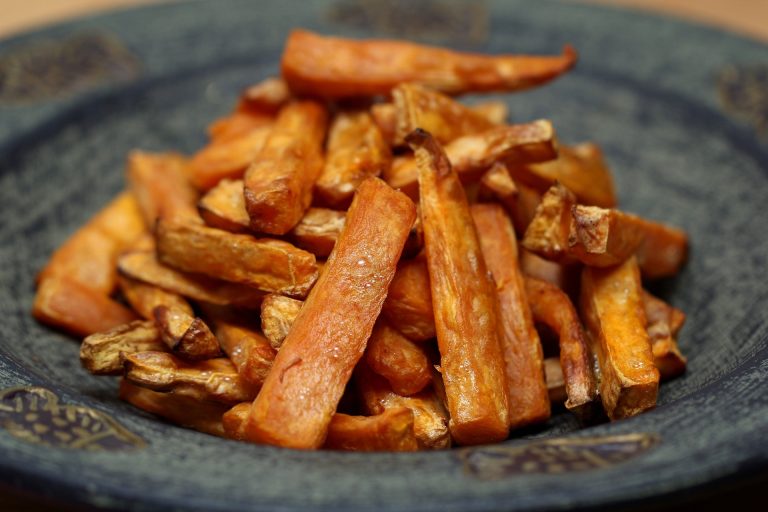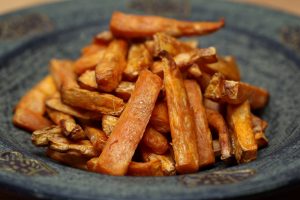 Recipe
You can make perfectly delicious and crispy roasted fingerling potatoes in your Air fryer by following the step-by-step instructions below:
Step 1: Lightly brush your air fryer basket with olive oil. And in a mixing bowl, toss the potatoes with more olive oil. Toss it until it becomes coated evenly.
It will prevent the potatoes from sticking in your air fryer basket's bottom during cooking.
Step 2: Avoid overlapping fingerlings potatoes in the air fryer basket to ensure even cooking. As a result, each potato will cook nicely and get crispy and golden brown.
Step 3: After completing the cooking, immediately serve and enjoy the hot golden brown fingerling potatoes. The air-fried or roasted potatoes become less crispy if you wait longer to enjoy them.
3. Air-Fryer Fingerling Potatoes With Parmesan
In cooking, the best thing is the air fryer. Using it, you can cook different recipes. Now we will discuss another recipe you can cook with fingerling potatoes and parmesan. The necessary ingredients to cook this recipe are:
Ingredients
Fingerling potatoes

Garlic

Olive oil

Salt & pepper

Onion powder

Parmesan
Recipe
Step 1: According to the manufacturer's instructions, at 375 degrees F, preheat your air fryer for 5 minutes.
Step 2: Perfectly scrub and wash the fingerling potatoes to make them dirt free. After that, leave the skins on and cut the potatoes in half.
Step 3: Now, take a large bowl and place the potato halves in it. After that, season the potatoes with onion, pepper, salt, powder, and garlic, and drizzle with olive oil.
Step 4: Lightly spray the olive oil on your air fryer before adding the fingerling potatoes. Now for 15 minutes at 375 degrees F, air fry the potatoes. And halfway through cooking, turn the potatoes.
Step 5: Pause the air fryer within the last 5 minutes of cooking. Afterwards, on each potato's top, add parmesan cheese. And then continue to air-fry it.
Before serving the potatoes, add more fresh herbs and parmesan cheese over each potato. In fact, thyme and parsley will work best to taste it better.
What To Serve With Air Fryer Fingerling Potatoes?
You can enjoy your air fryer or roasted fingerling potatoes with delicious homemade parsley aioli. Also, you can serve the potatoes with garlic, mayonnaise, parsley and lemon juice.
Moreover to get a better taste you can serve the potatoes with salmon, chicken breast or steak. Furthermore, no one will mind if you enjoy fingerling potatoes with potato salad or Nicoise salad. Simply you can serve it in whatever way you want.
Chef's Tips To Cook Fingerling Potatoes In The Air Fryer
Our expert chefs provided you with several tips to cook these recipes perfectly in your home. Those tips are:
While cooking in your air fryer, one of the great things is that it requires less oil. Coating the fingerling potatoes with olive oil is enough for a slightly crispier finish. However, you can use less oil according to your requirements.

Before frying the fingerling potatoes, seasoning them with salt is better. The chef also recommends seasoning the potatoes with salt even after cooking them. As a result, the potatoes will become more flavorful.

You can use an air fryer of any type and size for cooking fingerling potatoes. But avoid overcrowding the potatoes in your air fryer basket. Instead, fry them in batches to get crispy roasted potatoes and ensure proper air circulation.

The cook times can vary depending on your air fryer's size and type.

In the air fryer, the parmesan cheese will surely melt. If it melts, you won't get the potatoes in a crispy texture. Therefore in the last few minutes of cooking time, add parmesan if you prefer crispy cheese.
Why Will You Love These Fingerling Potatoes Recipes?
The fingerling potatoes recipes are a perfect side dish for any dinner on a special occasion or everyday meal.
Whether you are a picky eater, kids or adults, you will surely love our recipes mentioned above for the following reasons:
Cooking the fingerling potatoes following any of the abovementioned recipes will require little time, nearly 20-25 minutes.

The cooked potatoes are cheesy, crispy and tender.

Each of the above recipes is super easy to cook.

An air fryer is enough to cook the fingerling potatoes; you don't need an oven.

Clean-up is a breeze.

Lots of flavor variations make these recipes tasty, and the flavors are easily customizable.

Compared to oven-roasted fingerling potatoes, the air fryer recipes are much better.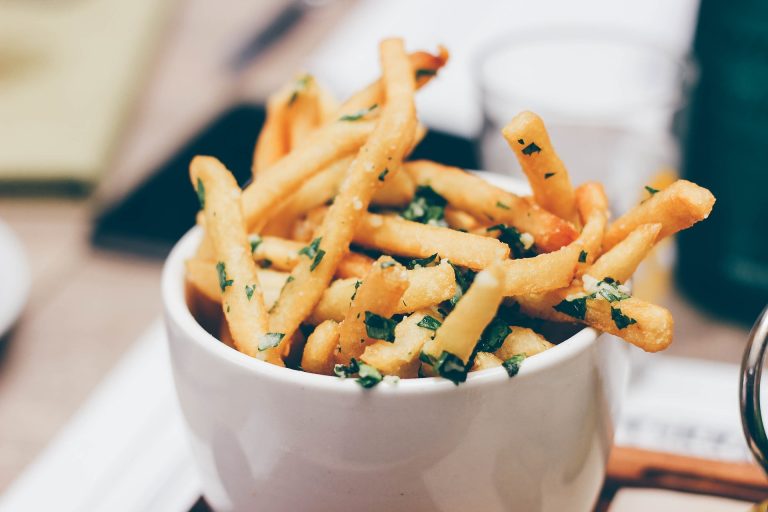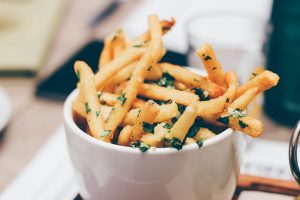 FAQ
Should potatoes be soaked before air frying?
Potatoes naturally have some starch. If you soak potatoes after cutting, it will draw out the natural starch from the potatoes. But it will result in crispier potato fry.
Soaking the potatoes for 30 minutes in cold water is enough. Anyway, if you want, you can soak it for more time.
Can I use an air fryer to fry potatoes?
Yes! Using your air fryer, you can fry potatoes. Cut the potatoes into pieces and spread them in your air fryer basket in a single layer.
Then, for 12 – 15 minutes, air fry them in your air fryer at 380 degrees F. You must flip the potatoes halfway through cooking.
Are air-fried potatoes healthy?
Yes! Compared to deep-fried potatoes, air-fried potatoes are healthier. The air-fried potatoes have the same roasted texture and nutrition.
End Note
After going through this article, you have clear insights about some great Air Fryer fingerling potatoes recipes. You can cook the fingerling potatoes in your air fryer in different ways. The roasted fingerling recipe can compete with any type of dish. 3 Best Air Fryer Fingerling Potatoes Recipes
So whether it's your special occasion or everyday meal, you can surely cook and serve these recipes. Moreover, these recipes can be as good as a restaurant's if you add Italian seasoning, parmesan cheese, garlic powder, and pepper.
In short, making perfectly crispy and roasted fingerling potatoes using the air fryer is very easy. For any meal, it's a perfect side dish. Comment and let us know whether you tried this recipe at home. We will love to see your comments.