Frozen cauliflower is a nutritious and versatile vegetable packed in a convenient format. Using frozen cauliflower, you can make several easy side dishes that pack a huge flavor. All the recipes are easy enough that will save time. And almost every recipe becomes ready in 30 -40 minutes.
Some unique frozen cauliflower recipes are cauliflower dill kugel, curried vegetable soup, and roasted frozen cauliflower. Some more recipes are cream of cauliflower soup, old bay cauliflower, and garbanzo-vegetable green curry. 6 Easy Frozen Cauliflower Recipes
In today's guide, we will explain all the frozen cauliflower recipes in detail. So without further ado, get going into the main discussion:
6 Frozen Cauliflower Recipes In Details
Now we will tell you several frozen cauliflower recipes. Following all these recipes, you can make the most convenient veggie. So let's drive into the main discussion.
1. Cauliflower Dill Kugel
Almost everyone enjoys kugel and cauliflower. So by combining these two ingredients, you can make one special dish. And it makes sense. So first off, the ingredients required for this recipe are the following:
Ingredients
1 package frozen cauliflower, patted and thawed by

5 tablespoons butter

4 large eggs

Thinly sliced shallots by 1 – ½ cups

1 cup minced fresh parsley

¼ cup dill weed

Whole-milk ricotta cheese of 2 cups

½ cup shredded Swiss cheese or Gruyere

1/8 teaspoon pepper

½ teaspoon garlic powder

3 teaspoons lemon zest

¼ teaspoon salt

¾ cup panko bread crumbs
Recipe
To cook the Cauliflower Dill Kugel, follow the step-by-step instructions below:
First, at 375° temperature, preheat your oven. Then over medium to high heat, heat 3 tablespoons of butter in a large skillet. After that, add shallots to the butter.

For 3-5 minutes, stir and cook it until it becomes golden brown. Once it becomes brown, then remove it from your oven and set it aside.

Now in this step, take a large bowl. Then mix ricotta cheese, eggs, shredded cheese, ¾ cup parsley, 2 teaspoons lemon zest, 3 tablespoon dill, pepper, and 1/8 teaspoon salt.

After mixing all these properly, stir them in shallots and cauliflower. Now transfer this mixture to an 8-inch square baking dish.

Now heat the remaining butter again on the same skillet. Then add bread crumbs to it. After that, cook it for 2 -3 minutes and stir it correctly until it becomes lightly browned.

Then stir in the remaining dill, parsley, garlic powder, salt, and lemon zest. Over the cauliflower mixture, sprinkle it.

Now up for 35 -45 minutes, bake, uncovered until it becomes set. Before cutting, wait for 10 minutes. And refrigerate the leftovers.
2. Old Bay Cauliflower
It is one of the easiest recipes to cook. Just in 10 minutes, it gets ready. With three ingredients, you can cook this item that is full of flavor. It's a perfect frozen cauliflower side dish. However, the required ingredients for it are:
Ingredients
1 – 2 tablespoons of melted butter

Frozen cauliflower of 1 packet

Seafood seasoning by 1 – 2 teaspoons
Recipe
The easiest directions to cook this food are as follows:
According to the directions on the frozen cauliflower package, prepare it

Then drizzle and drain the frozen cauliflower with butter

Then sprinkle the butter-mixed cauliflower with seafood seasoning. And the cooking is done.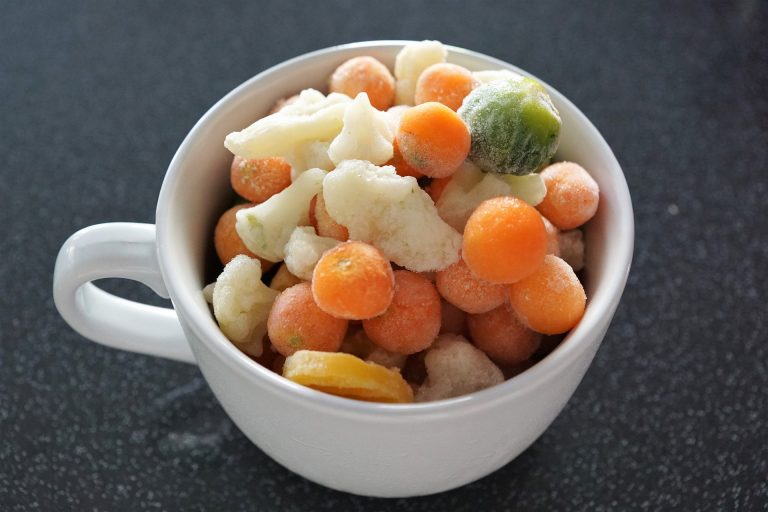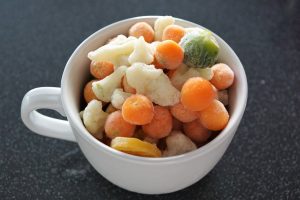 3. Curried Vegetable Soup
To save time, you can create this recipe with frozen cauliflower and your favorite spices. The required ingredients for this item are:
Ingredients
1 tablespoon canola oil

1 package of Frozen cauliflower

2 garlic cloves, minced

5 cups vegetable broth

½ teaspoon salt

1 package of frozen broccoli florets

½ teaspoon pepper

2 teaspoons curry powder

Plain Greek yogurt

1/8 teaspoon ground nutmeg
Recipe
The easy instructions to cook the curried vegetable soup are as follows:
Take a 6-qt stockpot and, over medium temperature, heat oil on it. Then add garlic to the oil and stir or cook it for 1 minute until fragrant.

Now put the yogurt aside and add the remaining ingredients to the garlic. Then reduce heat and bring all ingredients to a boil. Simmer for 8 – 10 minutes and cover it until the vegetables are tender.

Now from the heat, remove the soup and slightly cool it. Then in a blender, process the soup in batches to make it smooth. After that, return the blended item to the pot and heat through. If you wish, you can use yogurt on its top and then serve.
4. Cream of Cauliflower Soup
To make the cream of cauliflower soup, you require certain ingredients. And those are:
Ingredients
2 – ¼ cups of frozen cauliflower, chopped and thawed

Thinly sliced green onions by 1/3 cup

½ teaspoon salt

2 tablespoon butter

2 cups chicken broth

All-purpose flour of 2 tablespoons

2 cups of milk

Dry sherry of 2 tablespoons

Shredded 1 -1/2 cheddar cheese

1 tablespoon minced chives
Recipe
Now follow the step-by-step directions below to cook the cauliflower soup:
In a saucepan, put some butter first. Then sauté the green onions in it until it becomes tender.

Now stir in salt and flour until it is properly blended. After that, add broth gradually.

Then bring it to a boil. Afterward for 2 minutes, cook and stir it until it becomes thickened. Cook it in reduced heat.

After that, add the frozen cauliflower in it and for 2 minutes shimmer it. Then add the cheese and milk to the cauliflower. Until the cheese gets melted, cook and stir it. If you desire, you can stir it in sherry. And finally, garnish with chives.
5. Roasted Frozen Cauliflower
You can indeed roast frozen cauliflower, and it's one of the common recipes. The results of this recipe are very flavorful and wonderfully caramelized.
Compared to fresh cauliflower, this recipe takes a little long time. Therefore you need to be patient. Anyway, the necessary ingredients for it are:
Ingredients
1 – Ib bags of frozen cauliflower

Olive oil

Black pepper

Kosher salt

Dried thyme and garlic powder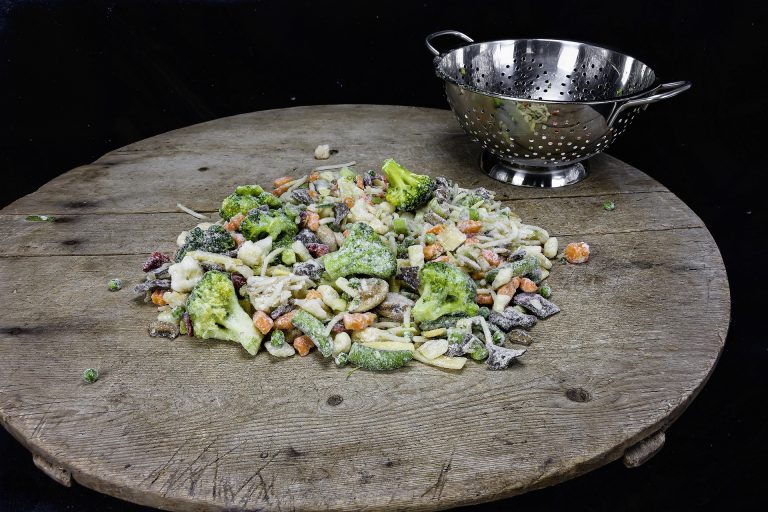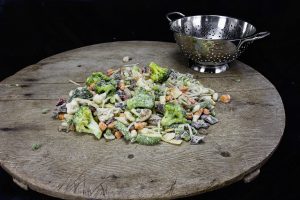 Recipe
Frozen cauliflower roasting is easy. Just follow the detailed instructions below to cook it:
At 400°F temperature, first, preheat your oven. Ensure your oven is hot but not super-hot. 

Next, you have to scatter the florets on an olive oil-coated baking sheet over a parchment-lined. Spray oil over the florets, and using the spices, season them.

The parchment paper can withstand the high oven temperature. Therefore you must use it. Or instead of parchment paper, you can use non-stick foil also.

Bake the frozen cauliflower a few times and stop baking if it becomes golden brown. Up to 45 – 50 minutes may require cooking in your oven. After 40 minutes, check whether the cauliflower has become golden brown. If it is, then the cooking is finished. 6 Easy Frozen Cauliflower Recipes
6. Garbanzo Vegetable Green Curry
Anything with coconut milk tastes great. So this is one such recipe that you will surely love. The necessary elements to cook it are:
Ingredients
3 cups frozen cauliflower

1 – ½ cups frozen peas

2 cans chickpeas or garbanzo beans, drained and rinsed

½ teaspoon salt

1 can of coconut milk

2 teaspoons cornstarch

¼ cup green curry paste

1 teaspoon cold water

½ cup lightly salted cashews

2 packets ready-to-serve long-grain rice
Recipe
Now to cook the garbanzo vegetable green curry, follow the step-by-step instructions below:
Combine frozen cauliflower, coconut milk, beans, salt, and curry paste in a large skillet. After mixing these, bring to a boil. For 5 – 6 minutes, cook and uncover it until the cauliflower becomes tender.

Then combine the water and cornstarch until it becomes smooth. Gradually stir this combination into the skillet and stir in peas. Then bring the item to a boil. For 2 minutes, cook and stir it until it becomes thickened.

Meanwhile, following the package directions, prepare rice. Then sprinkle the mixture of cauliflower with cashews. And finally, serve it with rice. 6 Easy Frozen Cauliflower Recipes
FAQ
Should I thaw frozen cauliflower before cooking?
NO! Before cooking the frozen cauliflower, you don't need to defrost it. Cooking them in frozen condition is best. Add frozen cauliflower to any dish, like casseroles, stews, and oven bakes.
Does frozen cauliflower get mushy?
 The best way is to freeze them, to preserve the cauliflower. However, if you pressure can it, the cauliflower doesn't dehydrate well, and it gets mushy and loses its nutrients.
How long does frozen cauliflower take to cook?
You can cook frozen cauliflower following different recipes. In almost every recipe, it takes 35 -40 minutes to cook.
Wrap Up
So we are at the end! Hopefully, after going through the above frozen cauliflower recipes, you will know that baking is so easy. From the frozen cauliflower, you can make several food items. But you will require some additional ingredients with it also.
Among the above recipes, you can pick one that best suits you or seems easy to you. All the recipes are easy. However, you can comment if you have anything to know more about the frozen cauliflower recipe. Our expert chef will soon answer you!