Blue oyster mushroom is a favorite food for many of us. But unfortunately, many of us can't eat it whenever we want because we don't know the blue oyster mushroom recipe. If you are such a person, I have come up with a solution for you.
The best recipe for mushrooms is to pan-fry them. So we will tell you how you can do that. It's effortless. First, take the mushroom, clean it, and cut it into pieces. Put some oil on the frying pan and heat it. After that, put the blue oyster in the oil, put butter and keep cooking.
The above description is just a short glance at cooking blue oysters. Now we will explain the oyster mushroom recipe in detail and provide other information. So, let's get going into the main discussion:
Where Can You Get Blue Oyster Mushrooms?
Locating the oyster mushrooms is pretty easy. You can find these mushrooms in your nearby high-end grocery stores, farmer's markets, and sometimes in local markets. Another easy way to get mushrooms is to plant them in your home.
Growing mushrooms by yourself is an easy and fun job. Grow the oysters by yourselves, and you won't need to look for them here and there. Simply cut a slit in a burlap bag to plant the blue oyster. And then put it in a dish of water. Blue Oyster Mushroom Recipe – We've Covered All Details
Hopefully, within a week, you will have some baby oysters in your home. Blue oysters grow fastly, and it's incredible. Mushrooms become ready to harvest within some days of sprouting.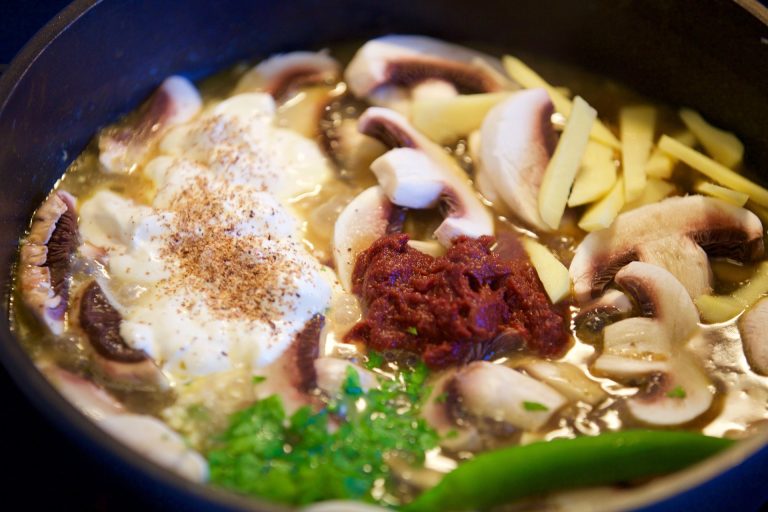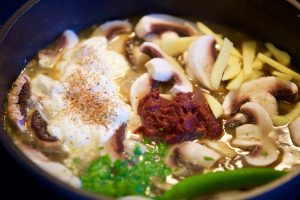 How To Clean Blue Oyster Mushrooms?
Generally, buying blue oysters from a high-end store means they are clean and ready to cook. But if you bought it from the local market or grew it at home, you must clean the mushroom properly. To clean it, we recommend you follow the simple steps below:
First, take a stiff brush. Now use it to clean the large debris from the blue oyster, if there is any. 

Then use a paper towel or damp cloth to wipe the caps and clean the gills.
Note: Don't use water to rinse oyster mushrooms. If you rinse mushrooms under water, they can quickly get soggy. The soggy oyster won't crisp up in the pan.
Ingredients For Blue Oyster Mushroom Recipe
Pan-frying the blue oyster mushroom is one of the best recipes to follow. Therefore in today's comprehensive article, we will tell you how to fry the blue oyster mushroom. If you pan-fry the mushroom, you will get a savory flavor from that food. And we bet you will surely love the flavor. Blue Oyster Mushroom Recipe – We've Covered All Details
So the essential ingredients you need to pan-fry the blue oyster mushroom are the following:
Blue oyster mushroom

Extra virgin olive oil

Fresh thyme

Garlic cloves

Salt

Ghee or butter

Black pepper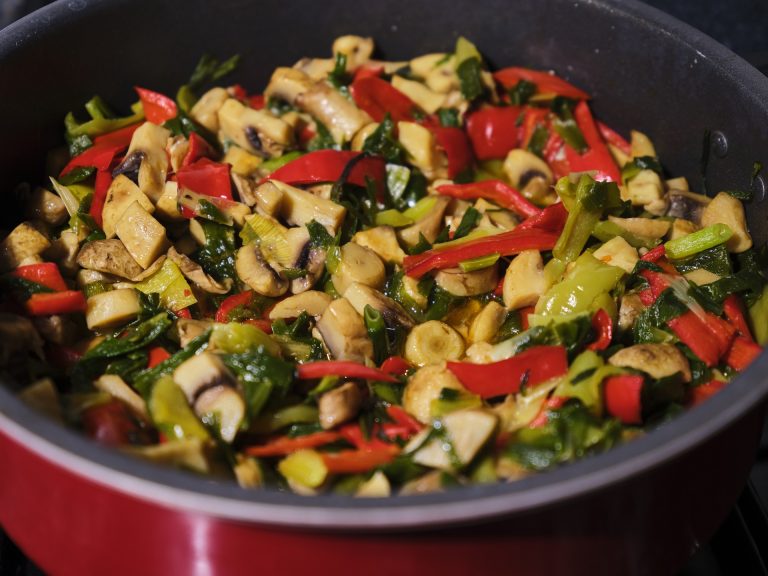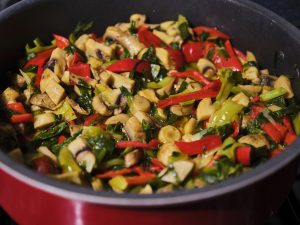 Blue Oyster Mushroom Recipe – The Easy Steps
The recipe for the oyster mushroom that we will explain is a game changer. Typically you may have the oyster mushroom dish from the restaurant. But believe us; you can also cook it at home following our recipe.
So now, without wasting time, let's follow the step-by-step instructions below to cook the oyster mushroom.
Step 1: First, before starting cooking, you must cut the blue oyster mushroom into equally sized pieces. Then clean it properly. If you need to learn its cleaning process, you can see the section above where we described how to clean blue oyster mushrooms.
Step 2: After cutting the mushroom, put it aside. Then take a frying pan and put three-four tablespoons of extra virgin olive oil in it. And then heat the oil.
Step 3: After heating the frying pan or skillet sufficiently, add the previously cut fresh blue oyster mushroom to the oil. For a few minutes, keep the mushroom undisturbed.
After a few minutes, in an even layer, spread the mushroom. Then let it cook again. Keep it undisturbed again for 3-5 minutes until they become brown. 
Step 4: After 3- 5 minutes, check whether the blue oyster mushroom has turned brown. If the color is not changed yet, give the oyster a toss. Let them cook for another 3-5 minutes until they become browned entirely.
Step 5: Add butter to the mushroom mix if you notice a yellowish burn. Use butter or ghee in the sufficient amount that you require. We recommend using ghee because it has a more robust aroma and richer flavor.
Step 6: Before adding thyme to the mushroom, let it cook for another few minutes. If you see the blue oyster mushroom turning very crispy or dark brown, then be sure it has been cooked. And now it's time to serve them on the plate.
How To Serve Cooked Blue Oyster Mushrooms?
The cooked blue oyster will make a stunning addition to almost everything. Therefore whichever dish you serve with fried oyster mushrooms will give a great feeling. But still, we will suggest some approaches to make your job easier. Blue Oyster Mushroom Recipe – We've Covered All Details
Some suggestions for serving cooked oyster mushrooms are:
Serve your fried oyster in the scrambled eggs

On the top of some grilled chicken or steak, top them

Boost the food flavor in a significant way by putting them in your favorite dish

As a sumptuous topping, you can use them on Avocado toast

Add the cooked mushroom simply to a pasta dish. On your cooked pasta, toss the blue mushroom and top with parmesan

Over the garlic bread's toasted slices, melt some cheese, and then on its top, spoon some mushrooms

Stir the oyster mushroom in the creamy risotto or cooked faro

One of the delicious vegetarian meals is the parmesan polenta's top warm bowls with fried blue oyster mushrooms.
However, the above are just a few suggestions for serving oysters after cooking. It's not mandatory that you must follow all these suggestions. Instead, you can serve the oyster according to your preference.
Most importantly, you can eat the fried blue oyster straight from the frying pan. No one will judge.
How Do Blue Oyster Mushrooms Taste?
What is the taste of blue oysters is a million-dollar question. According to some food lovers, oyster mushrooms taste like an oyster. Some people also claim that the oyster mushroom tastes like all other seafood. And a few other comments that its taste is more likely to a chicken.
In short, blue oyster mushrooms with a nutty flavor and delicate textured flesh are pleasantly mild tasting. Like all other types of mushrooms, the blue oyster is also full of umami. It means that this mushroom doesn't need colossal seasoning.
The blue oyster mushrooms are perfect for eating with pepper, salt, and garlic butter. But honestly speaking, understanding the food taste by telling or reading is impossible. Therefore we recommend you taste it right now in your home.
Bring some fresh oyster mushrooms from the market. Afterward, following our recipe mentioned above, cook it perfectly. And then taste what flavor it is!
Things That You Should Know About Blue Oyster Mushrooms?
The oyster mushrooms come in different shapes, colors, and sizes. Among all colors of mushroom, the rare colors are blue and pink. So, we hope you understand that blue oyster mushrooms are different from other types. 
Blue oyster mushrooms are fancy looking. And they belong to the Pleurotus ostreatus genus. The oyster-shaped caps of blue mushrooms with fine gills are delicate enough. So while cooking them, you must deal with them cautiously.
White button mushrooms are common. And you can cultivate them in soil. But the blue oyster mushroom is rare and grows in clusters on trees.
The texture of blue oysters is chewy. It doesn't lose shape when you cook it with a woody, liquid, and sweet flavor. Blue Oyster Mushroom Recipe – We've Covered All Details
One important thing you should know about blue oyster is that it contains different vitamins and minerals. So you can significantly cut your meal's massive calories just by replacing meat with blue oyster mushrooms.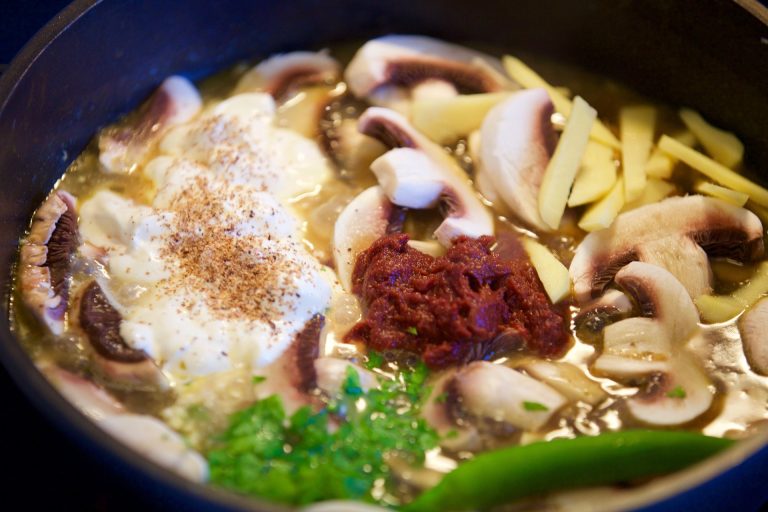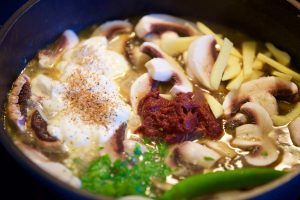 FAQ
What does blue oyster mushroom taste like?
The blue oyster mushroom's taste is similar to savory or meat flavor. Its texture is slightly chewy, just like the other mushrooms.
Can you eat raw blue oysters?
Eating the blue oyster mushrooms raw is not recommended. Before eating them, you must cook or boil them. Oyster mushrooms' gills, caps, and stems are edible.
What are blue oysters good for?
Blue oysters contain valuable constituents in considerable amounts, like amino acids, proteins, vitamins, antioxidants, and minerals. Moreover, blue oyster mushrooms are rich in vitamins D and B.
End Note
Hopefully, this comprehensive guide on the blue oyster mushroom recipe has been helpful to you. This article explained how you could cook blue oyster mushrooms well.
Frying or cooking the mushroom is very easy. And there is a little chance that you will mess it up. Most importantly, the cooked blue oyster mushroom adds character to any dish.
From our end, we have explained the recipe and blue oyster mushroom related all other information. If you have anything to know more about it, you can comment. ASAP we will answer your questions.