There is nothing better than a loaf of warm, soft, homemade bread – but baking might sound like a difficult task to many. 
If you want to bake bread at home in a few quick and easy steps, air fryer bread recipes are here to save you the trouble! The bread is fluffy, delicious, and ready in under half an hour.
Everyone loves soft bread with a golden crust and now you can make yours right at home. Air fryer bread requires a few simple ingredients, little to no effort, and about 20 minutes in the fryer.
With the help of an air fryer, you can have warm and fresh bread on your table in just half an hour! Keep reading to know more.
Ingredients for Air Fryer Bread
There are some key ingredients that you need for making this simple bread. No worries! You can find all of them in your daily kitchen supplies.
All Purpose Flour

Active Dry Yeast

Melted Unsalted Butter

Sugar

Milk

Vegetable Oil

Granulated Sugar

Eggs
Apart from these, you can use some additional ingredients to elevate your air fryer bread, such as sesame seeds, raisins, nuts, and more!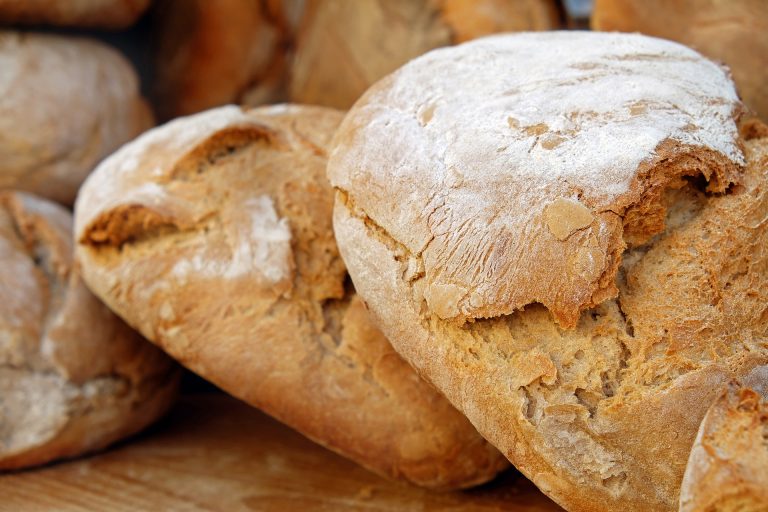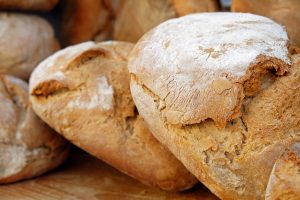 How to Make Air Fryer Bread
Air fryer bread is one of the easiest dishes to prepare, you only need to follow a list of simple steps –
Preparing the Yeast Mixture
Take a medium-sized mixing bowl and whisk warm water, yeast, and sugar together. Let it rest for 5-10 minutes until bubbles start to appear.
In the yeast mixture, add milk, salt, and vegetable oil before mixing it gently. After the wet ingredients are combined well, slowly add your flour and mix it till a ball is formed.
Spread some flour on a flat surface and knead the dough for around 5 minutes. When it's done, oil a bowl with vegetable oil and place the dough inside.
Cover the bowl with a cotton cloth or plastic wrap and let the dough sit for about an hour. When it doubles in size, it's time to air fry it. You can brush the top of the loaf with egg wash for extra flavor.
Place the dough in a pan and put it in your sir fryer basket that has been preheated at 380F. Finally, air fry your bread at 200F until the top turns golden brown. It should take no more than 20 minutes for the bread to be fully cooked.
This is an important step that a lot of people tend to skip. Let your freshly air-fried bread rest in the pan for about 5 minutes before taking it out. Put it on a cooling rack and wait for it to cool down entirely.
Now that you're done with making the bread, it's time to serve it. You can use fresh jam, butter, margarine, or anything that compliments soft and fluffy bread!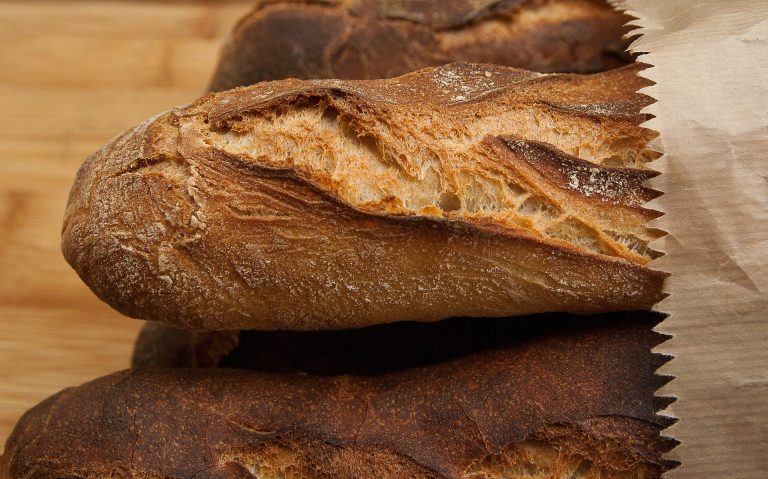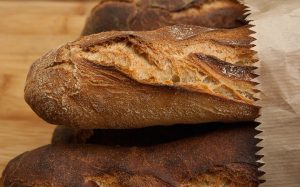 How to Serve Air Fry Bread
The options for serving your homemade bread are endless. Some of the most popular choices are fresh blueberry or strawberry jam, hazelnut butter, Nutella, and margarine.
You can also spice things up and use cinnamon sugar or garlic butter. A warm, fresh, soft loaf of bread tastes great on its own too.
Air Fryer Bread Recipe Ideas
Air fryer bread tastes amazing on its own but with a little more effort, you can turn simple bread into elegant meals!
Banana bread is a classic, delicious version of homemade bread. In your usual bread mixture, add mashed bananas, whisked eggs, and walnuts for a crunchy texture. Air fry it at 310F for 30 minutes and you're done!
Serve the banana bread with Nutella spread on top or add crushed walnuts as a garnish!
Quick Raspberry Lemon Bread
If you're a fan of both fresh fruits and bread – it's now time to combine them! In the bread batter, fold some lemon yogurt and zest in for the zing of lemon. Now, puree some raspberries and add it to the mixture. Fry it in a baking pan after oiling it properly.
This bread is full of fresh flavors and sure to win anyone's heart. If you want to try new combinations, go for any seasonal fruits you want!
The combination of melted chocolate chips and soft bread can make anyone's day. It's a perfect dish for breakfast, snacks, or dessert. In your bread batter, add vanilla extract, buttermilk, and a handful of chocolate chips. Air fry it until golden brown and it's ready!
Starting your day with a cup of coffee and a slice of chocolate chip bread will undoubtedly make you feel better!
Blueberry and Zucchini Bread
Blueberry and zucchini might sound like an odd combination at first but it's one of the tastiest blends. Add shredded zucchini, ground cinnamon, chopped blueberries, and vanilla extract to your bread mixture before air frying it.
Serve the bread with a dash of olive oil for extra flavor. You can use both fresh and frozen blueberries for this recipe.
Pro Tips for Air Fryer Bread
We have compiled a few tips that will help you make loaves of bread at home like an expert.
To get the best crispy texture on the bread, put some ice cubes around the outer area of the bread pan. The steam will ensure a nice, chewy bread crust.

Use parchment paper to line your bread pan to prevent the dough from sticking to the surface.

Always remember to put the smooth surface of the dough in the front.
Frequently Asked Questions
How do I store the bread?
If you keep the bread sealed in plastic wrap, it can stay fresh for up to 4 days. You can also store it in airtight containers.
How to tell if the bread is cooked through?
If you tap on the bottom of the bread, you should hear a hollow sound. If it's doughy, it needs more time.
Why is my bread dough not rising?
Always check the expiration date of the yeast, if it's too old then it won't activate.
Conclusion
Making bread at home might sound like a hassle but an air fryer can save you a lot of time and effort. Air fryer bread is a beginner-friendly dish and is perfect for meals or snacks.
Make sure you add the ingredients proportionately for the bread to be soft and fluffy. Let the bread rest for enough time before air frying it, and serve it with your favorite condiments!