When you get up in the morning, sometimes you really don't have the energy to prepare a full-on breakfast. You probably crave something easy and fun to make.
And the solution for this is obviously toaster strudel air fryer mode.
Well, the strudel made in an air fryer is a chef's kiss. We bet your children will love this one as it's sweet and basically filled in with fruits, chocolates or whatever filling you want.
In this guide, we'll be talking about how to make this delicious item, what are the ingredients and some friendly advice. You won't regret it so read till the end.
Let's buckle up!
What is Toaster Strudel?
Toaster strudel is a pastry. It's filled with mouthwatering fruit jams, cinnamon, chocolate or cream cheese. The middle part of the pastry becomes extremely light and toasted if you fry it in the air fryer.
Plus, you can decorate the toaster strudel with icing that makes the whole food nice looking as well.
This dish is ideal for breakfast, especially for your child. Most children habitually like to have sweet food instead of savory ones. So, it's your chance to make your babies the happiest with strudels at the beginning of the day.
Ingredients You Need to Make Toaster Strudel in Air Fryer
This recipe is the simplest one you can get for breakfast or snacks. You only need,
Frozen Toaster Strudel (Any brand you like)

Icing

Fruits to serve with the dish (Optional)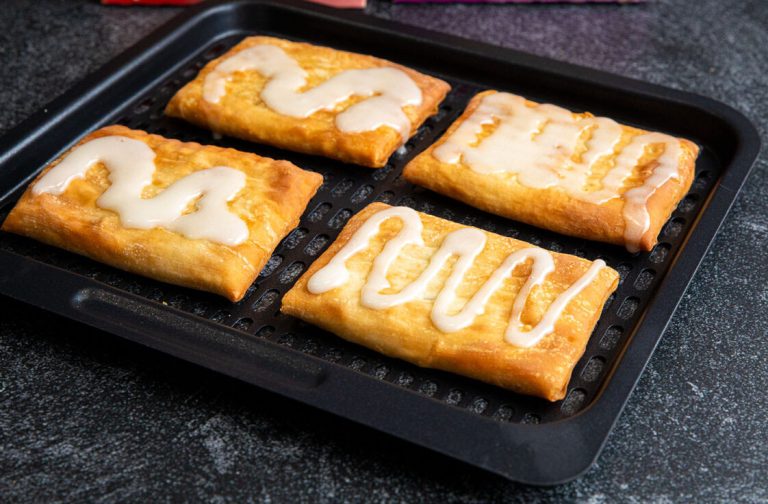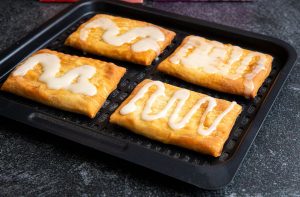 How to Make Toaster Strudel in Air Fryer
To get nostalgic with your toaster strudel, you have to follow the below steps. They include,
Take your air fryer and clean it

You don't have to preheat the fryer at all

Place your toaster strudels based on the capacity of the air fryer. If the fryer is big enough you can put around 3-4 strudels at once. But if the fryer is small, put 2 strudels together.

Don't grease the air fryer or add any additional oil. It'll make your pastries oily. It won't be healthy afterward.

Now, you have to air fry the toaster strudels. Set the temperature to 350F. 

You need to cook the dish for 5-7 minutes.

Remember that, the filling inside has to be perfectly hot. If the inside is cold, you won't enjoy the food at all.

After 3-4 minutes, flip your toaster strudels. It'll make both sides of the item cook well.

Once the strudels are golden brownish you can take them down.

Put the icing on top of them and enjoy your meal with your family.
You can cut some strawberries, berries or apples to serve with the pastry. It'll look amazing and will taste heavenly.
Fillings You can Use Inside the Strudels
We know every person has different taste buds. You might not like the typical toaster strudel filling very much. For that, you can always try different flavors. For example,
Apple

Cherry

Chocolate

Blueberry

Boston Cream Pie

Cinnamon Roll

Cinnamon Toast Crunch

Raspberry

Wildberry

Strawberry

Golden Grahams

Cream Cheese with Strawberry
Friendly Tips to Enjoy Your Toaster Strudel 10X
You can follow some advice to make a great outcome of your toaster strudel. They are,
As every air fryer is different, your cooking time might vary. You just have to check on the filling inside if they're hot or not. Once they're hot and melting, your dish is ready.

You can always use different fruits inside the strudel. But our advice will be to use an apple jam or the berry ones as they have a thick consistency. You'll enjoy the pastry more like that.

Keep an eye on your fryer as some air fryers really get hotter fast. If it gets too hot your pastries can burn. 

Never overcrowd the toaster strudels. They won't be accurately cooked that way.

Heat both sides properly to have a great taste.

Don't ice them before cooking. Always use the icing after putting them down from the fryer.
Can You Reheat the Toaster Strudel?
You can definitely reheat the strudels. But the issue here will be the icing. When you go to reheat the pastries, the icing will melt off them and it'll really stick to your air fryer.
The situation will get messy and you have to work extra to clean all those messes. This is why we'll recommend you only air fry the amount you want to eat. 
And if there are still extras, you can keep them inside a tight container. Reheat them to 320℉. Use parchment paper or silicone liner to clean up.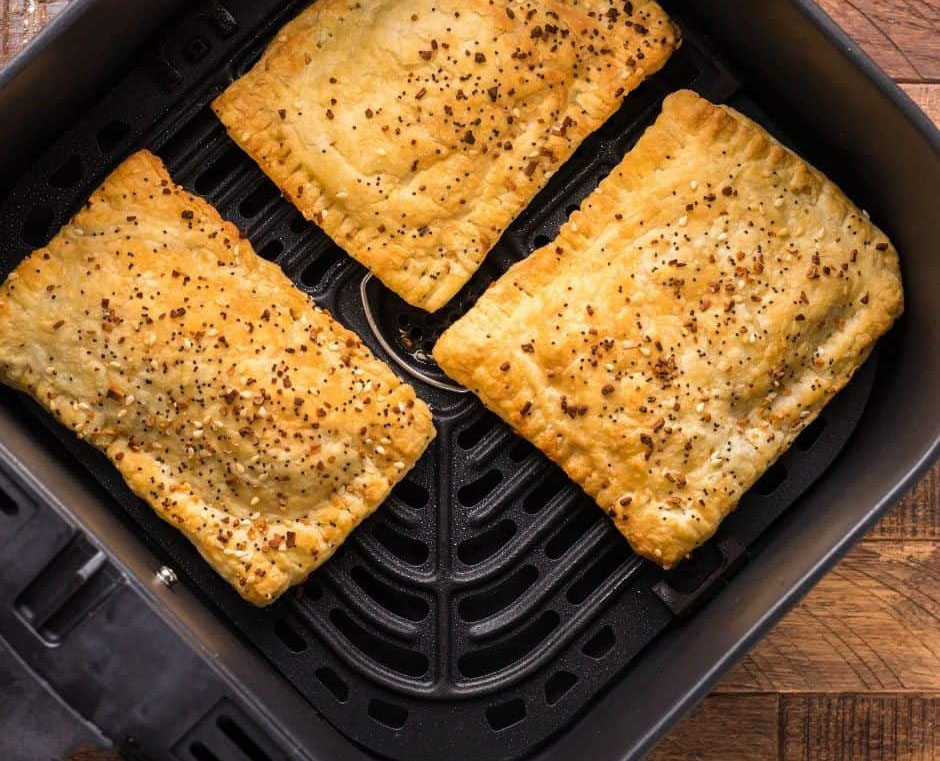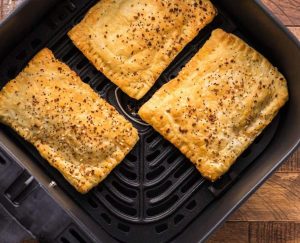 Frequently Asked Questions
Can I mix fillings in toaster strudel?
Definitely, you can mix different flavors inside your toaster strudel. If you find it boring to only use one flavor, add cream cheese with strawberry or blueberry. It'll taste fun.
Will parchment paper burn in an air fryer?
Parchment paper usually can handle up to 428F in the air fryer. To cook toaster strudel you only need 350F and to reheat them you need 320F. Therefore, you can use parchment paper for this recipe without any hesitation.
As you don't have to use oil in an air fryer, it's considered healthy. This actually cuts so many calories (70%-80%). If you're trying to diet or considering an active lifestyle, go for an air fryer.
The Bottom Line
That's all about toaster strudel air fryer cooking instructions. We're sure you got the full idea about this amazing dish. It only needs some frozen strudels and icing to make. 
Your breakfast or snack game will be more interesting from now on we believe.
Good Luck!