Last-minute meals can also taste good. A frozen hamburger baked in an oven with freshly sprinkled salt and pepper, topped with green lettuce, juicy tomatoes, tangy pickles, and melted cheese, is a perfect example.
Keep your eyes open for our special hamburger sauce recipe if you love a creamy and saucy burger more than anything. We love dabbing our patties with tons of sauce. The more, the merrier!
So, how to cook a frozen hamburger in the oven? All you need is 30 minutes, your favorite ingredients, and our world-class frozen hamburger recipe. Your kids will love it, and so will you, with all its explosive flavors melting in your mouth. Let's dive right in!
What You'll Love About This Recipe
We tried making the perfect frozen hamburger and settled on this recipe. Even on laid-back days, this is a food you'll crave and not just make it as a last resort. Trust us. Here's why you'll love this recipe.
The recipe is super easy, and takes no prep time. You can pop the frozen hamburger in the oven without thawing and work on the toppings when your patties are cooking.

Fast 30-minute recipe, and you can cook multiple servings in one go very easily.

Our special sauce that will take your hamburger game to the next level is not to be missed.

Easy cleanup that will only take seconds of your time. There's no mess to clean when you're done.

There's a lot of scope to play with the ingredients each time you try it. Nothing is too frigid and set in stone. The best part about cooking is its dynamic nature, and you should enjoy making this recipe your own. 
Which Ingredients To Pick Out To Make The Juiciest Hamburger In A Jiffy
Your burger is only going to be as good as the ingredients you pick out. So which ingredients to choose?
Frozen Beef Patties
We got the best results when baking a ⅓ to ¼ pounds beef patty. You should go for an 80/20 or 85/15 lean-to-fat-ratio hamburger. They'll give you the juiciest burgers that drip with each bite because of their higher fat content.
You're free to choose any brand you like, and there are so many varieties available. The ones we absolutely love are:
Hamburger Buns
You can go with anything you like. A classic sesame seed bun, kaiser rolls, potato bun, brioche bun, pretzel bun, or even ciabatta bun.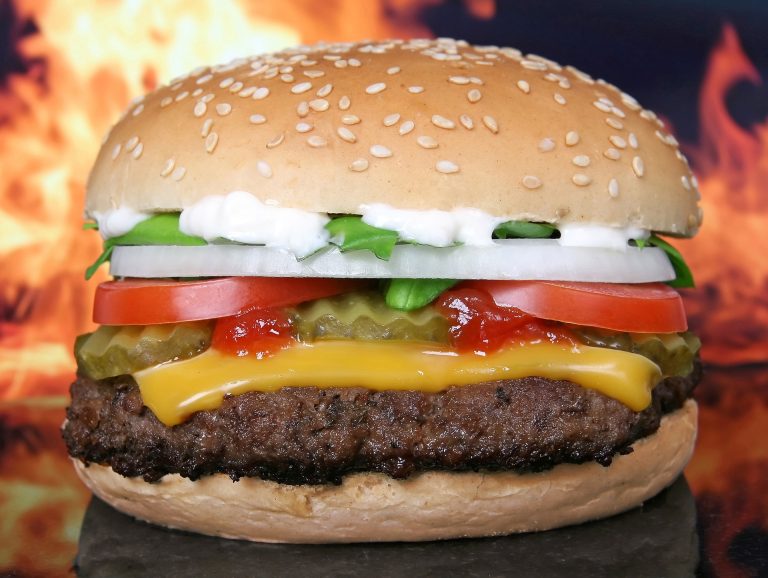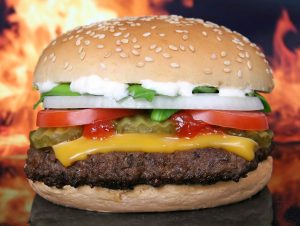 Seasonings
We prefer adding only salt and pepper, as less is more when it comes to seasonings. 
However, if you want more flavor profiles, you can sprinkle some garlic powder, onion powder, cayenne pepper for extra spiciness, or anything else that you love the taste of. You'll need some oil for the seasoning. 
Cheese
Cheese is optional, for sure. But not for us. We love cheddar and American food the best. However, swiss, blue, and gouda work well too. 
Toppings
Again, dare to imagine all the crazy toppings you have heard of or not. Really, it's up to you. We love lettuce, tomatoes, and onions. 
Splitting a seared sausage into halves and adding them to the hamburger is one of the best ways to eat it when you're craving fats. 
When you feel like making things fancier and taking things up a notch, top your patty with sauteed onions and mushrooms. Your burger will taste divine. Thank you later!
Special Sauce:
You can make as much of our special sauce as you like depending on how saucy you like your burger to be. All you need to do is mix the following ingredients well in a bowl with a teaspoon. You'll have the perfect sauce as long as you keep to the prescribed ratio.
Step-By-Step Procedure To Cook A Frozen Hamburger In The Oven
You have all the ingredients, and you're ready to go. That's great. Just follow the simple steps and prepare to taste the delicacy that's these hamburgers. Here's how to cook a frozen hamburger patty in the oven.
Step 1: 
Get your patties out of the freezer and pat them lightly with some oil. This will help the seasonings to stick better to the patty. Season with salt and pepper. Line a cookie sheet with aluminum foil and place a metal rack on top. 
Brush some cooking oil on the metal rack before placing the hamburger patty on it. Setting up in this way will help you clean up later.
Step 2:
Set your oven to 425°F and start baking the patty. How long to cook frozen burgers in oven? Well, it takes between 20-25 minutes for the patty to reach a temperature of 160°F, at which point the meat will be cooked. Use a meat thermometer to tell the temperature. 
Step 3:
While the patty is baking, make use of this time to wash up the veggies you need for the toppings. Slice your onions, tomatoes, and more. 
Prepare the lettuce. Mix the ingredients for our special sauce in a bowl. Anything that needs doing, now is the time. 
Step 3:
This step will make your buns warm and toasty. When the patty is almost cooked, place the buns on a baking dish and put them in the oven for 2 to 3 minutes. 
When the meat thermometer says that the patty is pretty close to 160°F, add a slice of cheese on top of each patty and bake for one minute to melt the cheese. Take the patties out when done. 
Make sure your patties are done at a time that's close to when the buns are done toasting. Nothing beats a warm burger. 
Step 4: 
Now it's time to assemble your burger. Dab as much of our special sauce as you like on both sides. Place the patty covered in melted cheese on the bottom bun. Top it with your favorite veggies and pickles. 
The top bun goes on, and there you have the most delicious and the fastest frozen burger.  
How To Saute Onions & Mushrooms To Make A Fancier Version Of Frozen Hamburger
If you feel like putting in extra effort to make this classic cheesy hamburger into a more gourmet version, topping it with some sauteed onions & mushrooms is the easiest way to go.
You'll need to get a skillet and work up the stove to medium-high heat to get things started. Melt some butter and add in sliced white mushrooms. Give them 5 minutes to cook before lowering the heat to medium. 
At this stage, the sliced onions go in. Season with salt and pepper. We like adding a little Worcestershire sauce. Cook for 5-7 more minutes. The mushrooms and onions are done when they're brown and soft.
Final Words
Hopefully, our guide on how to cook a frozen hamburger in the oven has given you the inspiration you need to whip up some quick hamburgers during dinnertime. 
We always have a fun time when making this recipe. Feel free to play around with the ingredients and toppings as you like.