The mixture of sweet potato, vanilla, warm spices, and brown sugar is heavenly; you can feel it in the sweet potato pie. Not only do African Americans enjoy this, but also on different occasions, in general people try out this amazing dish.
It's not that tough at all, you just have to know the cooking method and gather all the ingredients right. 
In this guide, we'll talk about the black folks sweet potato pie recipe, what the pie actually is, the ingredients you need, the making process, and some tricks to enjoy the dish more.
Let's dig into it and find out, shall we?
Definition of Black Folks Sweet Potato Pie
Sweet potato pie is a dessert that's often served on special holidays such as Thanksgiving, Christmas, or any family gatherings. 
This dish is mouthwatering as it's made with sweet potatoes, vanilla, eggs, evaporated milk, butter, brown sugar, and warm spices. All these combinations make the food delicious to enjoy right after your meal.
The pie is not only tasty but also has numerous health benefits, according to WebMD. People from any age group can enjoy this without any hesitation.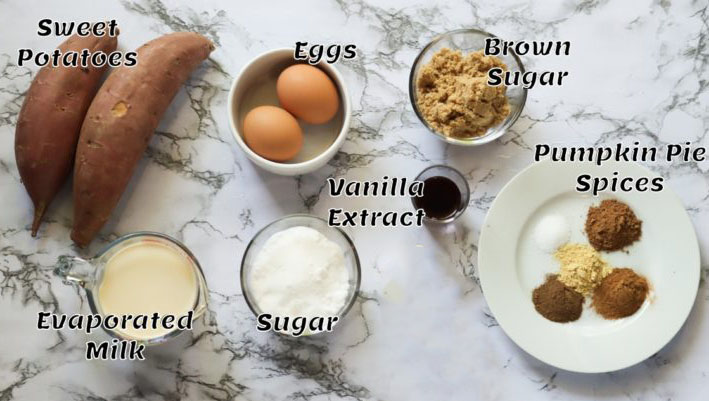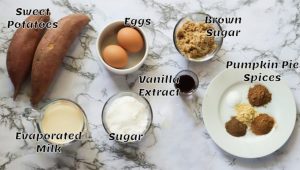 Ingredients You Need 
Well, you can easily make this dessert as the components you need for this are simple to find. They include,
Sweet Potatoes

Milk

Brown Sugar

Butter

Eggs

Salt

Pie Crust

Vanilla Extract (for flavor)

Ginger

Ground Nutmeg

Ground Cinnamon

Ground Cloves
How To Prepare Black Folks Sweet Potato Pie
It's time to show you the recipe you have been waiting to know. Just concentrate on the process and you're going to have an excellent outcome we promise.
Let's handle the sweet potatoes first,
Take a stainless pot with ½ level of water

Put your sweet potatoes there. Make sure the lid is properly closed

You have to cook the potatoes for 10-12 minutes. It'll be really easy after that to loosen the skins

Now take off the lid and let the air release from the pot

Take a colander and pour your sweet potatoes into that to drain

It's time to peel the skin of the potatoes. Touch them to be sure they're cool enough and then start to discard the potato skin

Gather all the sweet potato flesh in three different cups
Now you have to mix them all like:
Take an electric mixer or blender you have

Add the sweet potato flesh you prepared. Then mix the evaporated milk, vanilla extract, ginger, brown sugar, eggs, unsalted butter, nutmeg, salt, cinnamon, and cloves one by one

Blend them all until they're accurately mixed. They should look smooth too

Now it's time to pour the mixture into the pie crust

Leave the crust in a preheated oven (350F) for 30 minutes.

You'll see the pie center is firm. That is when you need to take the dish out of the oven
After it's done, let the black folks' sweet potato pie cool for 20-30 minutes. You can eat it like that or you can also garnish the whole thing with whipped cream, maple syrup, or honey. Whatever you like!
Some Tricks to Improve The Recipe
There are some tips we really want to share to make your dessert perfect. You can thank us later once you follow them:
Always wash the sweet potatoes before baking. It's because these potatoes usually have so much dirt on them. If you don't wash them properly, you might get an upset stomach.

No need to bake the pie crust at all. It's a waste of energy and time. You can bake the whole thing together.

If you don't have fresh sweet potatoes, you can use canned ones as well. They taste similar.

There's no exact amount of warm spices thus you can increase or cut off some due to your preference. We'll advise you to apply the right amount (not too much not too less) for an accurate taste.

You can use olive oil in the mixture instead of butter.

You must have to use a serrated knife to slice your potato pie. The cuts will be clean and clear.

Make sure your oven is preheated. This way the dish will come out with a proper texture and flavor.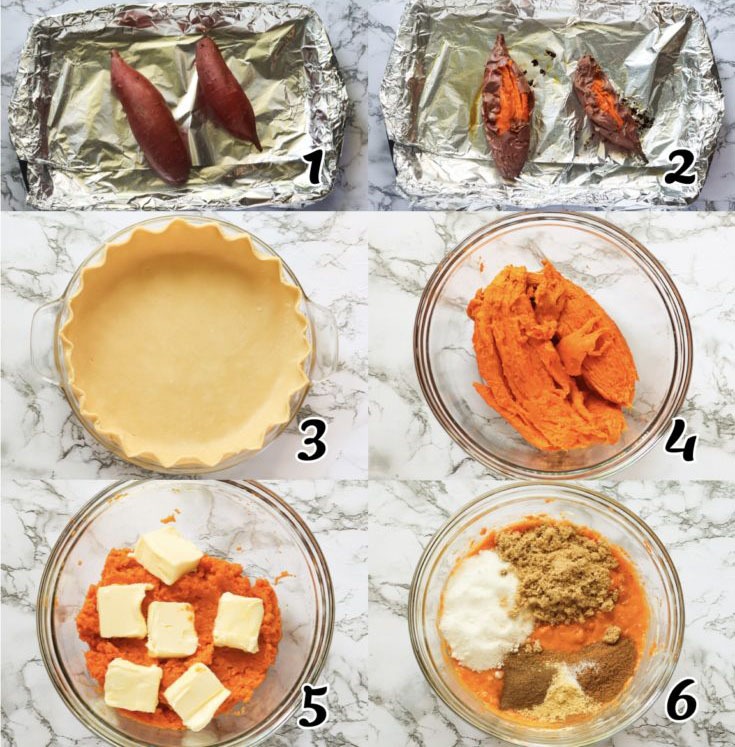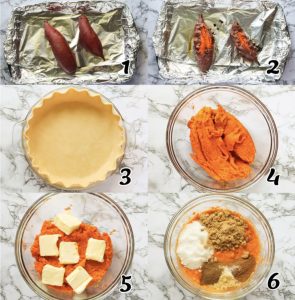 Health Benefits of Sweet Potato Pie
This recipe doesn't only taste good but also has many health benefits. Such as,
As you know sweet potato has so many antioxidants and fiber, it's really good for your digestive health. 
The test tube studies confirmed that this recipe will be able to increase some healthy gut bacteria that include lactobacillus and bifidobacterium species.
When you consume them, your gut will have a low risk of irritable bowel syndrome and diarrhea as well.
There is a group of antioxidants that are found in purple sweet potatoes. They're called Anthocyanins. This specific thing will slow down the cancer cells from growing. Moreover, it'll prevent the cells from multiplying too.
The antioxidant usually works for colon, stomach, breast and bladder cancer.
In sweet potatoes, there's beta carotene. Later this source turns into vitamin A which actually helps with a healthy immune system.
The sweet potato itself has a lot of beta-carotene. It's really amazing for your eyesight and skin. As an adult, if you consume one cup of baked sweet potato with its skin, it'll improve your eyesight.
You can twist it and have the sweet potato pie as well for the same benefit. There you'll get other different things that'll work differently on your body. black folks sweet potato pie recipe
Frequently Asked Questions
How do you thicken a sweet potato pie filling?
If your pie filling is watery, there's a high chance it won't come out firm. The solution is to add a tablespoon of flour to the mixture. This will make the filling thick and will maintain consistency.
Is soaking the sweet potatoes before baking necessary?
Of course, soaking is necessary. You have to soak the potatoes in cold water. This way all the starch from it will draw out and you'll have great potato flesh.
How long is homemade sweet potato pie good for?
A homemade sweet potato pie can be stored for 4 days. You can keep it in the refrigerator. But make sure you cover the lid of the box you've put your pie in.
Final Verdict
That's all. We're sure now you got the idea about the famous black folks sweet potato pie recipe. The process is simple. You just need to boil the potatoes well, soak them properly, mix the other ingredients and cook them at a proper temperature. 
Serve it to your friends or family whenever you want. The result will be outstanding, we believe.
All the best!