Steak and chops are both the favorite food for most foodies. While researching the steak chops recipes, we found an abundance of mouthwatering recipes on steak and chops. Making all these recipes also takes significantly less time.
Some popular recipes for steaks and chops are pan–fried cube steaks and honey garlic pork chops. The others are steak marinade, air fryer pork chops and cast iron pan–seared steak. All these recipes are healthy for you. And its nutrition combination will surely leave you wondering. 5 Best Steak Chops Recipes
So, in today's guide to making your job easier, we will explain all these recipes one by one in detail. Now let's get going into the main recipes discussion:
5 Best Steak Chops Recipes In Details
So today, we will guide you with some easy steaks and chops recipes. Thus keep going through the recipes below:
1. Pan–Fried Cube Steaks
This is an easy recipe regarding how to pan-fry cube steaks. So before jumping to the recipe, let's know what ingredients are required to make it.
Ingredients
½ cup all-purpose flour

1 beaten egg, medium size

Seasoned salt – 1 teaspoon

Bottom round 2 fillets cube steaks

1 teaspoon grilled seasoning

1 cup vegetable oil
Recipe
Now to cook the pan-fried cube steaks follow the easy instructions below:
Step 1: First off, take a dish and place the beaten egg in it. Then in a separate dish, place flour. Then add the Montreal steak seasoning and seasoned salt to the flour. After that, stir the mixture to combine.
Step 2: Dredge each steak cube in the already beaten egg. And then, coal the cube steak in the seasoned flour. Then keep it aside and heat the oil.
Step 3: Heat the oil to a bubble over medium-high heat in a large skillet. Cook for 5 minutes and add steaks to it. Then flip the steaks over using tongs. Cook the steaks for 2 minutes or more until they become brown. Finally, drain the cooked steak on a paper towel-lined plate.
The nutrition combination pan-fried cube steak is 19g fat, 454 calories, 43g protein and 25g carbs.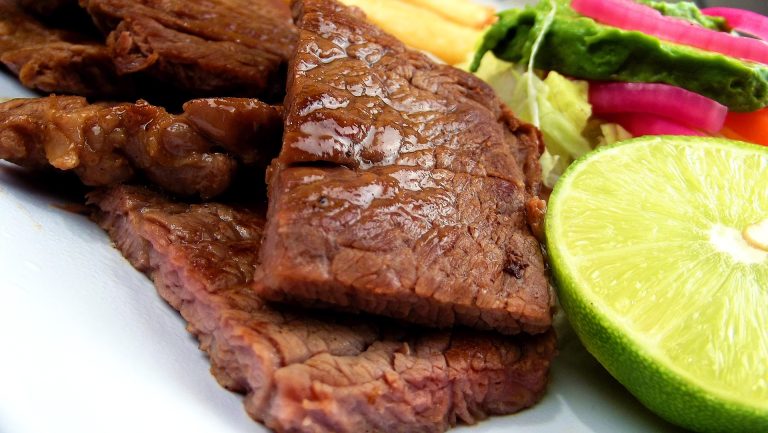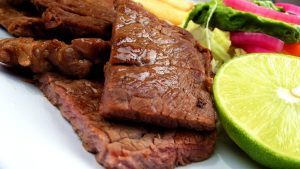 2. Honey Garlic Pork Chops
So our next recipe is the simple and quick grilled pork chop. Everyone will surely love the easy glaze of honey garlic pork chops. The necessary items to cook this recipe are:
Ingredients
2 2/3 tablespoons honey

2 cloves garlic, crushed

½ cup ketchup

Low sodium soy sauce of 2 tablespoons

6 pork chops (1-inch thick) (4 ounces)
Recipe
Now follow the easy directions below to cook this one.
Step 1: At medium heat, preheat your grill. And also, oil the grate lightly and gather all the ingredients.
Step 2: In a bowl, mix the whisk honey, ketchup, garlic and soy sauce together to make a glaze.
Step 3: On your preheated grill, sear both sides of your pork chops. On the chop's each side, cook lightly and brush glaze onto it.
Step 4: Grill the chop until there is no longer pink in the chop's center. Per side, cook for about 7 – 9 minutes. Insert an instant-read thermometer into the chop's center and ensure it reads 145 degrees F. If the thermometer shows 145 degrees F, that means your cooking is done.
The nutrition combination of the honey garlic pork chops recipe is 6g fat, 208 calories, 26g protein and 14 g carbs.
3. Steak Marinade
One of the common but tasty family recipes is steak marinade. Within a short time, you can make it. So first, let's explore what the necessary ingredients for it are. 5 Best Steak Chops Recipes
Ingredients
1/3 cup soy sauce

¼ cup Worcestershire sauce

½ cup olive oil

1/3 cup fresh lemon juice

1 ½ tablespoon garlic powder

3 tablespoons dried basil

1 teaspoon dried minced garlic

1 ½ tablespoons dried parsley flakes

¼ teaspoon hot pepper sauce

1 teaspoon ground white pepper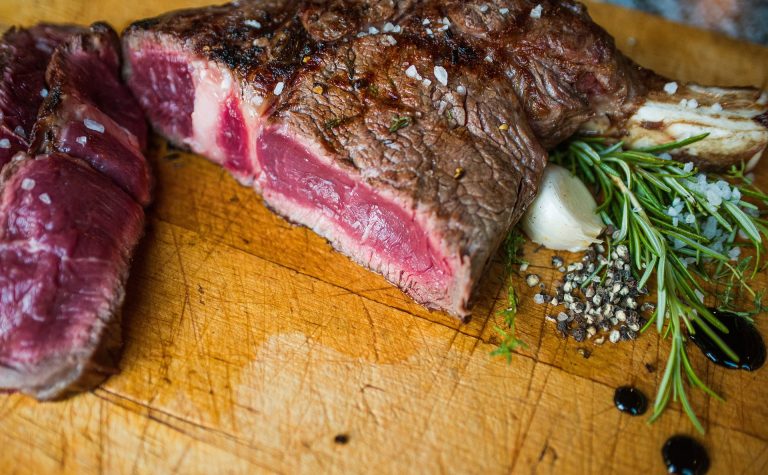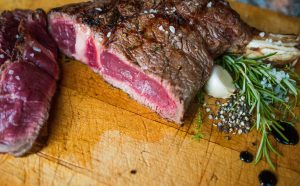 Recipe
Follow the easy step-by-step instructions below to cook the steak marinade.
Step 1: In a blender, place the olive oil, lemon juice, basil, soy sauce, garlic powder, Worcestershire sauce, white pepper, parsley, hot pepper sauce and minced garlic.
Step 2: Blend all these ingredients quickly to combine them thoroughly. Blend for 30 seconds.
Step 3: And then use the blended ingredients on the steak.
In a steak marinade, the nutrition combination is 14g fat, 145 calories, 1g protein and 6g carbs.
4. Air Fryer Pork Chops
In your air fryer, you can perfectly cook boneless pork chops. Believe us, this recipe is extremely easy. And the result of this recipe is a juicy and tender chop. Before starting the cooking, you need to gather the following necessary elements.
Ingredients
1 teaspoon paprika

½ cup grated Parmesan cheese

1 teaspoon kosher salt

1 teaspoon garlic powder

1 teaspoon dried parsley

4 boneless pork chops (5 Ounce)

½ teaspoon ground black pepper

Extra virgin olive oil of 2 tablespoons
Recipe
To cook the air fryer pork chops, the easy recipe is as follows:
Step 1: Preheat your air fryer first to 190 degrees C or 380 degrees F.
Step 2: Combine paprika, parmesan cheese, salt, pepper, garlic powder and parsley in a flat, shallow dish. And then mix all these ingredients perfectly.
Step 3: Using olive oil, coat each pork chop. Each chop's sides dredge in the parmesan mixture. And then set it on a plate.
Step 4: In your air fryer's basket, place 2 chops. And for 10 minutes, cook these chops. At halfway through your cooking time, flip the chops. Then after cooking, transfer the chops to a cutting board. And for 5 minutes, let it rest. After that, repeat the same process with the remaining chops.
This recipe's nutrition combination is 17g fat, 305 calories, 35 g protein and 2g carbs.
5. Cast – Iron Pan – Seared Steak
Marinate the steak in your fridge for 45 minutes. Quickly pan-seared the marinated steak in a cast iron skillet before finishing it in your oven. You need to gather the following items to cook this recipe.
Ingredients
Beef top sirloin steaks of 2 pieces (6 Ounce)

2 cups orange juice

½ cup Worcestershire sauce

1 cup apple cider vinegar

2 teaspoons extra virgin olive oil

Freshly ground black pepper

Sea salt to taste

1 ½ tablespoons steak seasoning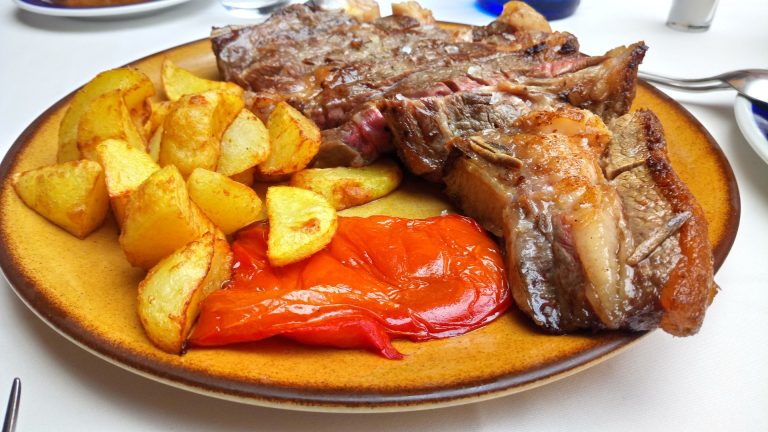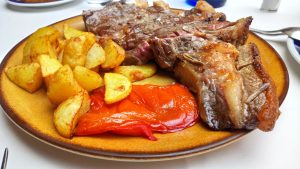 Recipe
Follow the easy step-by-step instructions below to cook cast–iron pan-seared steak.
Step 1: First, in a large casserole dish, place steaks side by side. Then add cider vinegar, orange juice and Worcestershire sauce in it.
Step 2: Marinate and uncover the steak for 45 minutes in your fridge. And preheat your oven to 220 degrees C or 425 degrees F.
Step 3: After you refrigerate, remove the casserole dish. Then using plastic wrap, cover the steaks. For at least 15 minutes, allow the steaks to come to room temperature.
Step 4: In this step, on a clean work surface, place the steaks. And then, rub the steak generously with the black pepper and steak seasoning.
Step 5: Heat the olive oil over high heat in a cast-iron skillet. And then, in your hot skillet, cook the steaks until their bottom becomes browned lightly. Cook for 2 ½ minutes until it becomes lightly browned. Cook it for 2 minutes more, flip and cook on the other side until browned and red in the center.
Step 6: With the steak, transfer the skillet to your oven. Then, bake the steak in a preheated oven's center for 8 – 10 minutes until it becomes light pink and firm. Then insert an instant-read thermometer into its center. The thermometer's reading should be 130 – 140 degrees Fahrenheit.
Step 7: Remove the cooked steaks from your oven if your thermometer shows the required temperature. After that, season it with salt. Before serving the steak, let it rest for 5 minutes.
The nutrition combination in your cooked seared steak is 154g fat, 457 calories, 32 g protein and 43g carbs.
FAQ
What is the difference between a steak and a chop?
Pork's popular cuts are pork chops and pork steaks. Pork steaks are the portion of the pig's shoulder area. And pork chops are taken on the pig's loin area. Pork chops are tender and leaner. On the contrary, pork steaks are usually tougher and thicker. 5 Best Steak Chops Recipes
Is steak meat or beef?
According to the definition, steak is the meat slice that is cut from the beef carcass's fleshy part.
How do you tenderize boneless chops?
Just before cooking, lightly dampen your pork's surface with water. Use 1 teaspoon of meat tenderizer per pound and then sprinkle it evenly.
End Note
Hopefully, this comprehensive article containing the details of steak chops recipes has been helpful for you. You can try any recipe in your home. But before starting cooking, you must ensure that you have gathered all the required ingredients. And after that starts cooking. Surely the outcome will be flavorful and delicious.
We have been done explaining all the tasty recipes for steak and chops. Now if you have anything to know more, you can comment in the box. ASAP our expert chef will reply to you!