A T-Bone steak is a short loin crosscut with a T-shaped bone in the middle. It's a high-quality steak and is also called a large tenderloin. Also, this steak is the most expensive. The tenderness and mouthwatering taste of this T-Bone steak make it more flavorful.  
But is it possible to cook air fryer T-Bone steak? The answer is yes. You can quickly prepare the steak with some seasoning and olive oil and keep it on the air fryer at the perfect temperature. 
We've tested multiple cooking methods with various seasonings to find the best one. Let's get you started.
How to Prepare T-bone Steak?
The best part of cooking T-Bone Steak is the easy preparation. Also, it requires fewer ingredients than other steaks because it's a mouthwatering meat cut. 
It'll take 20 minutes to prepare the steak for cooking. Here are the ingredients you'll need to make T-Bone steak on an air fryer. 
Ingredients 
1 pound T-Bone steak 

1/4 tablespoon kosher salt 

1/4 tablespoon black pepper 

1/3 tablespoon paprika 

1/4 tablespoon garlic powder 

1/4 tablespoon Crushed red pepper 

1/4 tablespoon onion powder 

2 tablespoons of olive oil 

Persley or rosemary leaves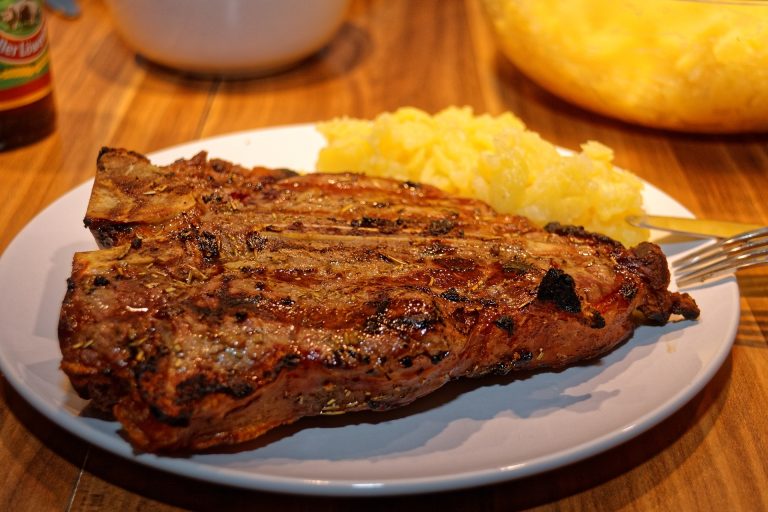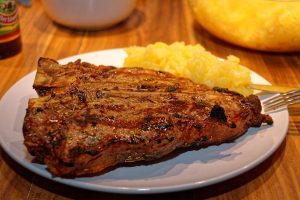 How to Cook A T-Bone Steak on An Air Fryer?
Air frying your steak is the healthiest cooking method. However, it isn't necessary to marinade the T-Bone steak. 
But if you want to marinate and keep it for some time, it's entirely your choice. Let's get started with the cooking instructions step-by-step guide. 
Cooking Process
First of all, take the steak out of the fridge and keep it at room temperature for 20 minutes—preheat the air fryer to 400 degrees. The temperature depends on the doneness you want. Choose the temperature that matches your preference. 

Now pat dry the steak piece with a paper towel and add the seasoning like salt, pepper, paprika, garlic powder, crushed pepper, and onion powder. 

Brush olive oil on the air fryer basket and place the steak on it. Keep it on the air fryer for 8 to 10 minutes. 

Open the basket and flip the steak. And again, air fry it for another 8-10 minutes. Add a handful of small parsley or rosemary leaves. Take the basket after 2 minutes. Your steak is ready to eat. 
Cooking Temperature for Perfect T-bone Steak 
It'll taste better if you cook the steak at the appropriate temperature. Now it depends on your taste bud. For example, you love rare steaks, so you must set the temperature to 125°. 
However, you need to set the heat at 135° for medium rare, 145° for medium, 155° for medium well, and 160° for well done. Poke the steaks with a steel fork to check their doneness. 
How Do You Know WHen A T-Bone Steak is Done? 
Generally, you can use a thermometer to understand the steak's doneness. Hold the meat thermometer on the steak while cooking. If it's indicating 135°F, then your steak is done. 

You can also check the doneness without a thermometer. Next up, if the steak is fleshy, then the steak is raw. It feels loose like your palm. 

The rare steak is firmer than the raw one and feels like the index finger. However, the medium rare is like the middle finger; the medium feels similar to the ring finger. And if the steak feels like a pinky finger to the thumb, it's well done. 
Cooking Techniques of T-bone Steak on Air Fryers  
Following cooking tips can make your steak more tender and delicious. Such as, 
Keep the T-Bone steak at room temperature for 30 to 60 minutes. Also, take your time to rub the seasoning on the steak. 

Pick sea salt or kosher salt for seasoning instead of regular ones because these salts are also tastier and healthier. 

You can use butter instead of olive oil. It can enhance the taste of steaks. 

Rub the seasoning with your hand. Wear kitchen gloves and rub the ingredients properly on both sides. 

If you want crispiness outside, coat your steak with one layer of butter or olive oil. 
How to Preserve Cooked T-bone Steak? 
Instead of wasting the leftover steaks, you can easily store them in your refrigerator for one week and freezer for one to two months. We'll help you with the freezing process. 
Take a zip lock bag or airtight container box. 

Place the steaks in the box or bag. Close it perfectly and keep it in the corner of your refrigerator or freezer. 

Remember to take out the steak at least 20 minutes before cooking. Also, clean it again while preparing it with seasonings. 
How to Reheat T-bone Steak on Air Fryers
Most of the time, reheating the steaks makes them dry and doesn't taste good. We've got excellent reheating techniques for steaks that keep the tenderness intact.  
You first have to take out the steak from your fridge. After that, pat dry with a kitchen towel. Brush olive oil gently on the steak. 

Preheat your air fryer to 380°F for 2 to 4 minutes. You can wrap the steak with aluminum foil paper or a box.

Keep the steak on the fryer bucket and close the door. Heat it for 2 minutes on each side. Flip the sides in between heating.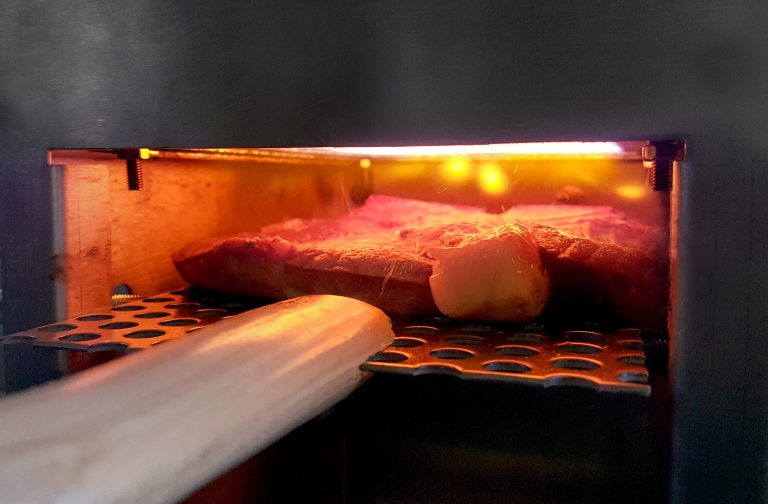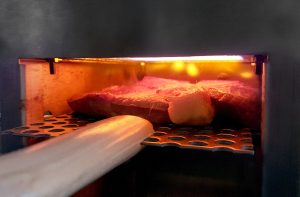 What are the Other Ways of Cooking T-Bone Steak 
There are more ways of cooking T-Bone steak. You can grill it, fry it on the skillet, pan-sear it, and broil it. Also, you can use other seasonings on it. But keep the ingredients as simple as possible. 
Besides, you can use the oven for cooking a good T-Bone Steak, which will take 40 minutes. Grilling will take 10 to 15 minutes; skillet fry will require 15 minutes to cook the steak properly. 
FAQs 
What to serve with T-bone steak? 
You can serve garlic bread, mashed potatoes, roasted or sauteed vegetables, salads, and French fries. Also, it goes well with rice, pita bread, and tacos. 
How to store raw T-Bone steak on freezer? 
To preserve the raw T-Bone steak, you must take a foil paper or freezer zipper bag and wrap the steak piece tightly. Then place them in an airtight container and keep them in the freezer. It can last for 12 to 24 months. 
How to tenderize a T-Bone steak? 
Regardless, the T-Bone steak is a tender meat cut. But if you want to make it softer and juicier, you must tenderize it using a tenderizer or meat hammer. It makes the steak more delicious. 
Is it possible to cook thick T-Bone steak on an air fryer? 
Yes. You can quickly cook 1.5 to 2 inches of steak on the air fryer. To cook thick steaks, preheat the air fryer to 350°F for 20 minutes. Flip the sides after 10 minutes.
Final Thoughts
That's it, then. Our cooking is done; now it's your turn. Hopefully, after cooking air fryer T-Bone steak with this recipe, you don't have to recheck it. Go to the local market, and get some T-Bone steaks and veggies. 
Prepare a wholesome meal with steaks, mashed sweet potatoes, and sauteed vegetables for your dinner. Enjoy a happy weekend dinner with your friends and family. 
All the best.