Who doesn't love nuggets? But the age-old traditional method of deep frying nuggets can take a toll on your health. Don't worry, for air fryers are here to the rescue!
You can easily cook dino nuggets with an air fryer; just set the heat, and they'll be ready in no time. 
Want to know how to make dino nuggets with an air fryer in detail? Keep reading!
Can I Make Air Fried Dino Nuggets?
Any type of frozen food can be cooked with an air fryer. In fact, air frying is a healthier cooking method than pan frying or deep frying. On top of that, it's less time-consuming and much easier than the traditional method!
Dino nuggets are no exception. Treat your kids and yourself to tasty air-fried dino nuggets using our instructions. 
Is It Better To Air Fry Dino Chicken Nuggets?
When it comes to cooking frozen foods like chicken nuggets, there are a number of choices. While the traditional method of deep frying dino nuggets is the most common and frequently used one, there's no doubt that it's one of the unhealthier ways to make your snack. The added calories and trans fat won't do any good to your body. 
Moreover, the vast amount of oil required can't be reused and has to be thrown away. On top of that, deep frying is a pretty time-consuming process.
A slightly healthier option would be to use a microwave. However, microwaves will make the nuggets soggy and doughy, defeating the whole purpose of making the crunchy and crispy snack. And there's always the risk of overcooking. 
Compared to deep frying and microwaving, air frying is a much healthier option. There's minimal to no oil usage, and it takes only a few minutes to fry. Air fryers cook frozen food perfectly; no more hassle of overcooked or undercooked snacks. 
Most importantly, air fries provide an excellent crunch to your snack!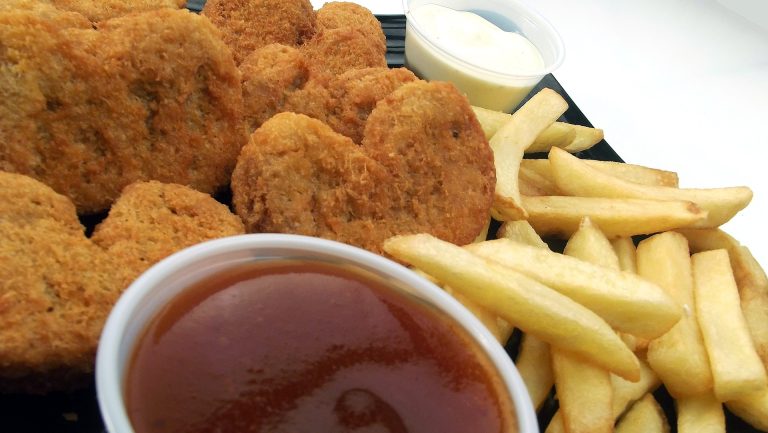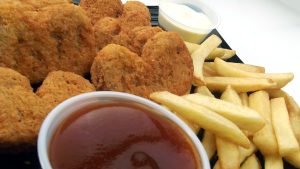 How To Make Dino Nuggets With An Air Fryer?
In order to make the perfect chicken nuggets, follow these instructions- 
Required Ingredients 
A pack of frozen Dino Chicken Nuggets (any brand will do)

Ketch up/ tomato sauce/ Ranch for dipping 
Required Instruments 
An air fryer

Disposable parchment paper liners
Step To Make Dino Nuggets in An Air Fryer
First of all, preheat the air fryer to 400°F for 5 to 6 minutes. If you're planning to cook homemade dino nuggets, then set the temperature to 360°F.

Place a disposable parchment paper liner onto the air fryer basket.

Place the dino nuggets in a single, neat layer onto the parchment paper. 

Insert the tray and cook the nuggets for 7 to 8 minutes.

Pull the tray and flip the nuggets to get an even cook.

Air fry the nuggets again for 7-9 minutes. 

Finally, take out the nuggets and serve them with the dip of your choice. 
Tips 
If you want to prepare a meal with dino nuggets, then throw in some seasoned vegetables (cauliflower, potatoes) to air fry simultaneously. And voila! You've got yourself an instant chicken nugget meal. 
Notes 
Settings for different brands of air fryers can vary when it comes to heat and cooking time. So, make sure to check the manual and know the proper heat settings before cooking anything with it. 

Defrost the frozen nuggets for 10-15 minutes before putting them in the air fryer. Nuggets may remain raw inside if they're directly placed in the fryer, or immediately out of the fridge. 

Even though air frying doesn't require oil, light brushing or buttering can enhance the taste. In fact, lightly brushing the pan or paper liner with vegetable oil can prevent nuggets from sticking to the bottom of the pan.

Halfway through air frying, shake the pan or flip the nuggets to avoid rawness or undercooking on one side.

Don't overcrowd the fryer pan, as it hinders the effective flow of hot air. If necessary, air fry the nuggets in two batches for a perfect cook.

Spice up your nugget snack time with exciting dippings like ranch, BBQ sauce, honey mustard, cheese dip, mayonnaise, or the classic tomato ketchup.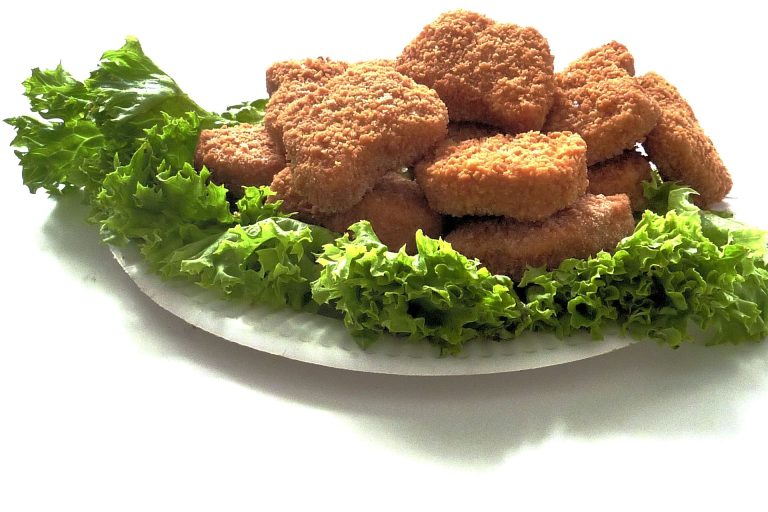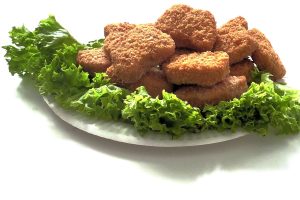 Nutritional Facts: Dino Chicken Nuggets
Amount Per Serving:
| | | |
| --- | --- | --- |
| | Amount in gm | % Daily Value |
| Calories | 170 | 35% |
| Total Fat  | 10 | 15% |
| Saturated Fat  | 1.5  | 8% |
| Trans Fat  | 0.2 | 3% |
| Cholesterol | 0.2 | 7% |
| Sodium | 370 | 15% |
| Total Carbohydrate | 14 | 5% |
| Dietary Fibre | 0.5 | 2% |
| Sugar | 0 | 0% |
| Protein | 7 | 2% |
| Vitamin A | 0 | 0% |
| Vitamin C | 0 | 0% |
| Calcium | 0.2 | 2% |
| Iron | 0.01 | 1.8% |
Video
Here's a video demonstrating how to make dino nuggets using an air fryer.
FAQs 
Can adults eat dino nuggets?
Yes, children and adults can both enjoy dino nuggets. There are no restrictions when it comes to enjoying a delicious snack!
What is the best brand of air fryers?
Philips is considered to be the best air fryer due to their reasonable pricing and excellent mechanism. Instant Vortex and Cosori are also amazing air fryers. Before buying air fryers, make sure to check out the reviews. 
What is the best way to make nuggets?
While deep frying is the most common way to make nuggets, air frying is a healthier and easier option. It's less time-consuming, produces fewer calories, and doesn't contain any risk of burning. 
Which brand makes the best dino nuggets?
Tyson Nuggets are the most popular brand of dino nuggets on the market. They contain a lower amount of sodium and saturated fats compared to other brands. Applegate Naturals, Kirkwood Foods Ltd., and Golden Platter Nuggets also make good quality and delicious nuggets. 
How to reheat dino nuggets using an air fryer? 
To reheat cold dino nuggets, just place them on the tray and set the heat to 300°F for 5-6 minutes. 
How long does it take to cook dino nuggets in an air fryer?
It takes no longer than 10 minutes to cook dino nuggets using an air fryer. 
Conclusion 
Now that you know how to cook dino nuggets with an air fryer, what are you waiting for? Be sure to try out our quick and easy recipe to make those delicious dino nuggets!