Cooking steak with cannabutter is a good way to start infusing cannabis into your diet. There are many health benefits of consuming marijuana that you can enjoy from getting the right dosage with your meat. 
But the best part is that you get to enjoy a high-class meal that's absolutely delicious and hits the right notes flavor-wise. The steak seasoned with Montreal Steak Spice served with the quickest aioli you'll ever make is going to taste like Christmas in your mouth.
Continue scrolling down for our guide on how to cook steak with cannabutter with pro tips on getting the perfect steak every time. 
Should You Buy Cannabutter From A Store or Make It At Home?
Cannabutter, cannabis butter, or weed butter are all the same thing. It's what you need to make a majority of cannabis edibles. You can buy it at a cannabis dispensary online or locally as well as make it at home. 
Now, making it at home can take some patience. So, if you aren't up for some hard work in the kitchen, we recommend you buy some good-quality cannabutter. Either way, your steak will still pack plenty of flavors and retain the benefits of cannabis.
Check out this jar of cannabutter from Hempceuticals. You get a total of 1000 mg of THC infused with 4 oz. of unsalted butter. That's a 100 serving for someone looking to have fun and experience the relaxing benefits of marijuana. 
However, if you want to make it at home, start with 7 grams of cannabis with a 25% THCA. After infusing it with a stick of butter, the THCA will convert to about 1078 milligrams of THC in total. The finished cannabutter will be only slightly higher in dosage than the store-bought one I recommended. 
Anyway, there's more to this home process. You'll get to know in detail in the next section.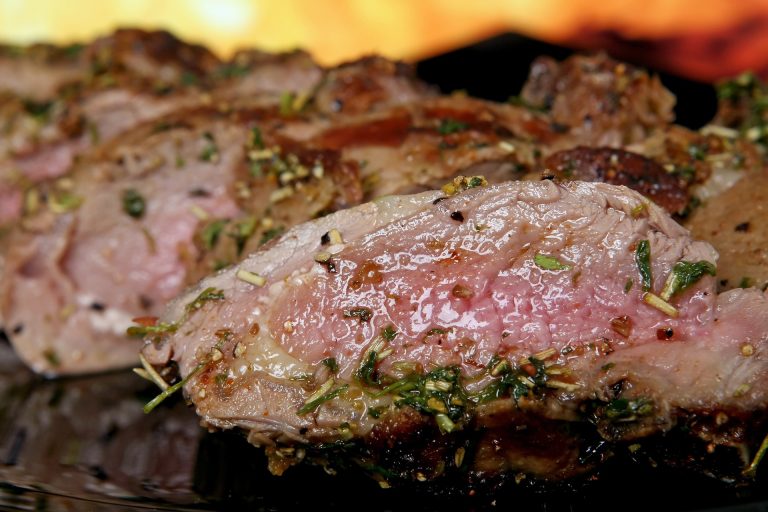 How To Make Cannabutter At Home
Start by getting good quality cannabis with a 25% THCA. You only need 7 grams for this recipe. You can get any butter of your choice; salted or unsalted. Here's the easiest way to make cannabutter.
Step 1: 
To decarb the flowers of the marijuana, you need to grind them with a cannabis grinder. Once they're well ground, spread them on a baking sheet. Set your oven to 240° and let it preheat. Bake the ground cannabis for about 40 minutes. 
Step 2: 
Get a cooking pan. Set the heat on your stove on low. Pour a cup of water and a cup of butter into the pan. Doing this slowly on low heat makes the butter melt evenly. 
Step 3: 
When the mixture is simmering, add the ground cannabis. To infuse it with the butter, cover the pan with a lid. Cook for 4 hours on low heat. Add water when needed as well as stir the butter every once in a while.
Step 4: 
Use a cheesecloth to strain the liquid into a jar. This will get rid of the pieces of cannabis and extra oil. Allow the butter to drain into the jar and squeeze all the remaining liquid out of the cheesecloth.
Step 5: 
Allow it to cool down before refrigerating it. Once refrigerated, It will be fine for a few weeks.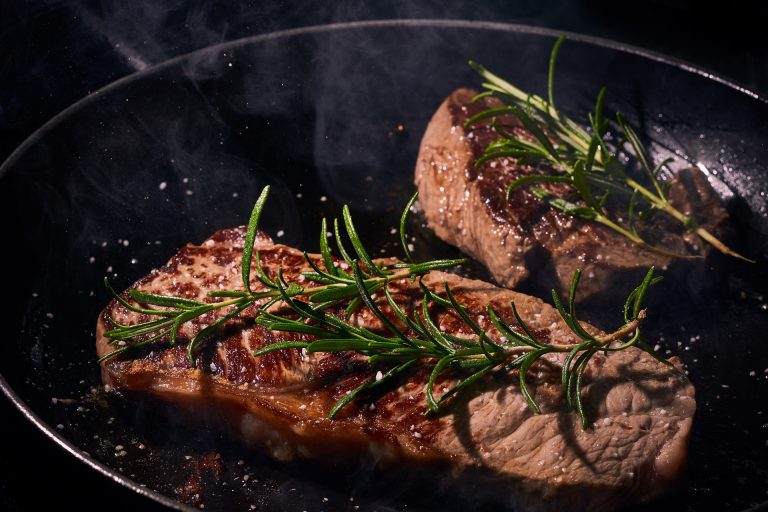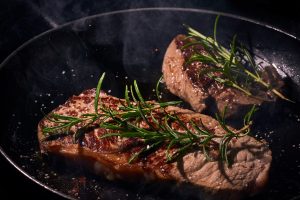 How To Cook Steak With Cannabutter: The Absolute Best Recipe You Must Try
Instead of a basic salt and pepper seasoning, I think cannabutter calls for an extra oomph. After much experimentation, the combination of Montreal Steak Spice and rib-eye steak hit the right spot. 
Ingredients Per Serving for The Steak
1.5 inch thick rib eye steak (1.5 lbs.)

1 tablespoon olive oil

0.5 teaspoon salt

1 ½ tablespoon Monteal Steak Spice

1 teaspoon cannabutter
Ingredients for Montreal Steak Spice (Enough for 6 Servings of Steak)
1 tablespoon dill seeds

2 tablespoon black pepper

2 tablespoon sea salt

2 tablesoon unsmoked paprika

1 tablespoon garlic powder

1 tablespoon coriander

1 tablespoon cayenne pepper

1 tablespoon onion powder
Ingredients For The Aioli
½  cup mayonnaise

1-2 tabolespoon chipotle hot sauce

1 teaspoon dijon mustard

1-2 teaspoon lemon juice

¼ teaspoon salt

¼ teaspoon cayenne pepper

1 tablespoon olive oil

1 tablespoon garlic
Here's How To Cook Your Steak With Cannabutter
Step 1: 
Warm your steak upto room temperature. Set the oven to 500° F and allow it to preheat.
Step 2: 
As the oven is ready and heated up to the set temperature, turn your stove on high and place a frying pan on it for 5 minutes.
Step 3: 
Prepare Montreal Steak Spice by mixing all the ingredients in the given proportion. Season your steak with the spice and salt after sprinkling the olive oil onto it. Make sure to coat the steak with spice on both sides.
Step 4: 
Place the stake on the hot pan. Sear for 30 seconds on each side. Use tongs to flip the steak.
Step 5: 
Now, your stake goes into the oven for 4 minutes to get a medium rare steak, 2 minutes on each side. Remember, to flip the stake after the first 2 minutes.
For a medium steak, it needs a total of 6 minutes in the oven, and 8 minutes for a medium well one. Additional 2 minutes for well and another 2 for overdone steak. You'll need to flip the stake on the halfway mark for every level of doneness. 
Step 6:
Take it out of the oven and let it rest for 2 minutes lightly covered in aluminum foil. 
Step 7: 
To prepare the aioli, you just need to mix all the ingredients together. Serve it with the steak with stir-fried veggies of your choice. Corn should blend in nicely with this recipe.
Pro-Tips To Make The Perfect Pan-Seared Steak
Cooking a perfect steak isn't as hard as it's cut out to be. You just need to be mindful of a few things to get a crisp brown steak on the outside with a pink, medium rare center. 
Make sure you have the pan on the heat for an entire 5 minutes before you start searing the stake. This will give your steak a lovely brown color as well as a smoked flavor.

While searing, press down on the steak so that it gets heated evenly. 

You don't want to slice your steak thinly as this will cool them down too fast. For a good presentation, cut at an angle and always go against the grain.

Invest in an oven-safe pan so that you can transfer the pan from stove to oven. As an alternative, you can use a metal sheet pan for the steak to finish in the oven. You need to preheat the pan, so you're not transferring the stake to a cool pan after searing. 
Final Words
Steak made with compound butter is always more flavorful. Cannabis butter is just what you need to kick-start your experimentations with edibles. However, it takes longer for the marijuana to kick in when ingested rather than smoked. 
But this way you get all the benefits without damaging your lungs. Marijuana prevents brain damage from conditions like Alzheimer's and even stroke. It's a healthy source of omega-3 fatty acids and is good for depression, anxiety, and other mental health issues. Getting some relief from pain is also possible by ingesting marijuana. 
All these benefits along with a delicious steak is a win-win for sure. So, hopefully, you now know how to cook steak with Cannabutter.