Boiling water on a stove for a quick cup of tea or hot chocolate can be annoying. The hassle of grabbing a pan, lighting up the stove, and waiting for so long is more than you can bear after a tiring day of work. We totally get it. We've been there.
The easy alternative is to stick your mug into the microwave and let it do the magic. But microwaving water to a boil is definitely riskier than using the stove. Especially, if you don't bother with the safety measures we'll inform you of them later. 
But first, let's take a look at how long to boil water in microwave of different wattage and power.
How Long to Boil Water in Microwave for Different Wattage Levels
It isn't just the wattage level or the amount of water that makes the time it takes to boil water vary. There are other factors involved. We'll take a look at them later. But the amount of water and the power of the microwave is by far the most impactful. 
Take a look below at how much time it takes for a cup or 8 ounces of water to boil in microwaves of different wattage levels.
| | |
| --- | --- |
| The Wattage of Microwave | Time Taken |
| 1200 watt | 1 minute |
| 1000 watt | 2 minutes |
| 800 watt | 2.5 minutes |
| 700 watt | 3 minutes |
| 600 watt | 4 minutes |
The above chart should be viewed as a rule of thumb as to how long you should wait for the water to boil in your microwave. However, you may need to wait slightly less or more depending on other things.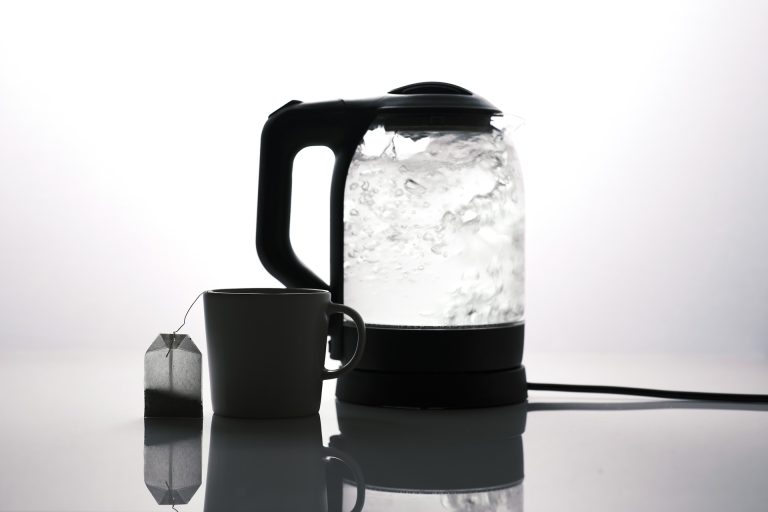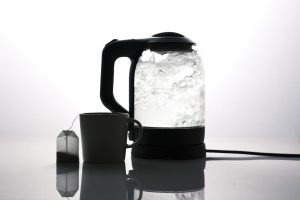 Factors Affecting How Long Boiling Water in The Microwave Takes
There are some elements that you need to be mindful of as they can influence the time it takes for water to boil. Wattage and amount of water are obvious and we have already told you what to expect from them. So, we'll take a look at other factors.
Your choice of container is very important. Not only because certain materials are compatible with a microwave while others are not, but also because the container absorbs heat. For example, plastic containers absorb more heat, so it will take longer for water to boil in such a container compared to say a ceramic one, which absorbs less heat.
Thickness & Size of The Container
A thicker container will have more substance in it that will absorb heat. Bigger containers will have a larger surface area and more material as well, calling for greater heat absorption. So, the same amount of water will heat up earlier in a smaller, thinner container than one that is more heavily built.
Initial Water Temperature
The starting point at which the water was will determine how much time it takes for it to boil. Most often you are likely to heat up water at room temperature as that is easily accessible. However, in principle, a larger temperature difference between the boiling point of water and the starting temperature means a longer time required to boil. 
Higher altitude means that the boiling point of water becomes less than what it is at sea level. So, if your microwave is at higher altitudes, it will take less time to boil water.
Risks of Boiling Water in The Microwave
The most obvious risk of boiling water in a microwave is that it increases the risk of burning. It isn't as easy to tell when water is boiling in a microwave as it is when it comes to a stove. 
That is because, when inside a microwave, water doesn't bubble over. So, really you need to have a sense of how long it takes for water to reach the desired temperature without visual cues.
This can cause you to misjudge how hot the water and the container holding it is, resulting in burns. Moreover, the fact that water doesn't bubble inside a microwave means that there's no way of releasing excess heat through steam. This results in a phenomenon called superheating.
When water is this hot, if you disrupt it with an object or by shaking it, a lot of steam is released at once. A small explosion of boiling hot water takes place which is needless to say a very dangerous situation. 
However, there are ways to reduce these risks and they're really simple. So, you don't need to be too scared of boiling water in the microwave but just cautious. 
The Safety Measures You Should Take While Boiling Water in The Microwave
Some of the safety measures you need to take to ensure that water doesn't superheat when boiling in the microwave are the following.
Only use microwave-safe cups. Leave it uncovered and don't fill it up all the way.

Add a microwave-safe object to the cup. For example- a wooden spoon or a chopstick. This is enough to discontinue the water surface. You will see bubbles forming on the surface of this object. 

You can stir the water and heat it up in intervals. Say you have a 1000-watt oven and want to heat it up for 2 minutes. After every 30 secs, give the water a stir inside the microwave. This will ensure even heating.

Tapping the side of the cup before taking it out is a good way to be safe from explosive superheating.

Also, while taking the cup out, protect your face and keep it at a distance. Don't forget your oven mitts.
FAQs
Which containers are safe for boiling water in a microwave?
You should only use the following cups or containers to heat water in a microwave.
Glass containers

Ceramic containers

FDA-certified microwave-safe plastic containers
How long does it take to boil water in the microwave for tea?
Boil water in the microwave with the necessary precautions. Check the table above to see how long your microwave may take to boil water. Don't put the tea bag in with the water. Instead, sink it in the hot water for 3 minutes after taking it out. 
How long does it take to boil water in the microwave to sterilize?
Heat up water to its boiling point using the tips in this article. Leave the water in the hot microwave for 3 minutes longer when the timer goes off and the power goes off. Stir it at intervals to prevent superheating. After 3 minutes, the water should be sterile.
How long does it take to boil water in the microwave for ramen?
Start by boiling 2 cups of water as you normally would in a microwave. Add the noodles and microwave for an extra 5 minutes. Give it an extra minute if the noodles aren't done. Empty the spice packet into the bowl and stir.
How long does it take to boil water in the microwave for coffee?
Coffee is best brewed close to 205ºF. So, bring water to a boil in the microwave using the above tips. Then, let it cool down to 205ºF. Use a thermometer for accuracy. Add the ground coffee. Filter your coffee and there you have it. Microwaved black coffee!
Final Words
Boiling water in a microwave is an easy task. But it's important to know how long to boil water in microwave as there's a risk of overheating. Heating water in the microwave for too long after it reaches the boiling point only increases this risk.
However, the ways to counter the risk of superheating are very easy. Stirring the water in intervals, leaving a wooden spoon in the mug, and tapping the mug with a spoon on the side before taking it out are all super easy to do.
So, there's no need to worry about using the microwave to boil water as long as you are careful.