The smell of fresh cinnamon rolls makes anyone's mouth water. Fear not for those who love eating cinnamon rolls but want to avoid the hassle of baking these tasty treats. You can now make cinnamon rolls in air fryer. 
Just place the cinnamon rolls into your air fryer and bake. Cook time is 8-10 minutes at 360 degrees Fahrenheit.
Keep reading to learn more about this process, including the ingredients you need, why you need to bake them in your air fryer, and tips to know when making them.
How to Cook Cinnamon Rolls In Air Fryer
Cooking cinnamon rolls in an air fryer is a delicious way to enjoy those fluffy, gooey desserts without heating the oven. It's much quicker and provides softer, more melt-in-your-mouth results than baking in the oven.
Ingredients to Cook Cinnamon Rolls
One tube of cinnamon rolls

Coconut oil cooking spray

Butter (optional)
The Step-by-Step Guide to Prepare Cinnamon Rolls
Step 1: Preheat the Air Fryer
Preheating ensures you cook the rolls with even heat and cinnamon roll dough is cooked properly. To preheat your air fryer, set the temperature to 360°F and leave it for around 3 minutes.
Step 2: Spray Cooking Oil
This is an essential step in the cooking process. Spray the air fryer basket with cooking oil to prevent sticking. 
You can also use aluminum foil or parchment paper to prevent adhesion. However, don't use olive oil as its residue on the air fryer.
Step 3: Place Rolls into the Air Basket
The next step is to place the rolls into the air fryer's basket. Make sure you leave some space between them to allow for even heat distribution. 
Step 4: Cook Time
Cook for around 8 minutes, until the cinnamon rolls are golden brown. While cooking, keep an eye on the rolls because some air fryers bake quickly, while others take a little longer. Cook for an additional 2 minutes if you want it a little more crispy. 
Step 5: Remove from the Air Fryer
Remove your cinnamon rolls from the air fryer and drizzle icing on top.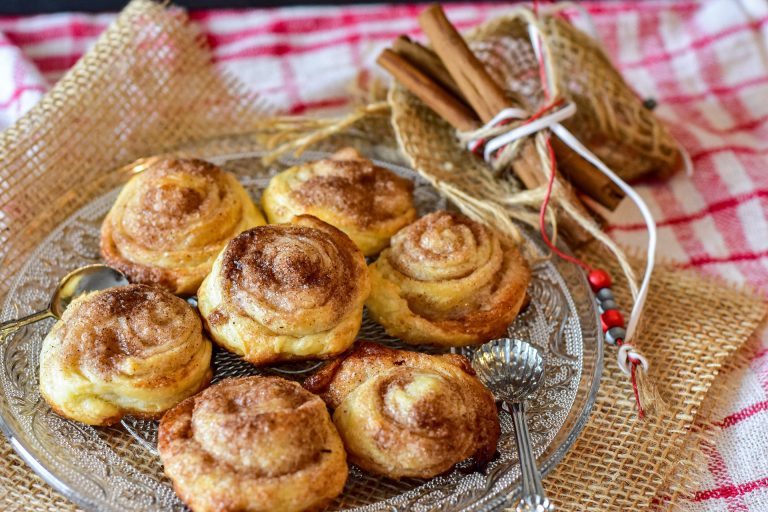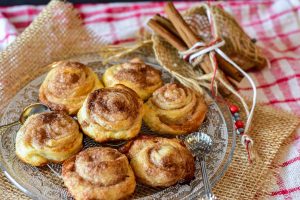 What To Serve Cinnamon Rolls With
Cinnamon rolls are traditionally served with coffee, tea, and hot milk when served at breakfast. 
You can get creative and serve the cinnamon rolls with fresh fruits, caramel ice cream topping, warm vanilla custard, or a chocolate ganache for an added twist. 
Plus, if you want to serve cinnamon rolls as a dessert, you can serve them with a dollop of whipped cream and a sprinkle of chopped walnuts or almonds. The choice is yours, so do it the way you like it.
When to Serve Cinnamon Rolls
Cinnamon rolls are great for serving at breakfasts, brunches, parties, get-togethers, and special occasions. In North America, they're usually served as dessert or breakfast. 
They can also be a snack at any time of the day. However, in Finland and Sweden, cinnamon rolls are a dessert, and they're served with coffee/tea.
Recipe Tips For Cooking Cinnamon Rolls In Air Fryer
Cinnamon rolls are a classic treat; making them in an air fryer is quick and easy. Here, we'll provide tips and tricks to ensure your cinnamon rolls turn out perfectly every time.
Refrigerate the cinnamon rolls until they're ready to be cooked. This is important because this will make the cinnamon rolls hold their shape better during cooking.

Avoid overcooking the cinnamon rolls. Overcooked cinnamon rolls will be less soft, fluffy, and delicious and may even burn.

Cook them in multiple batches if your air fryer needs to be more significant to fit all the cinnamon rolls in your air fryer at once.

Check the cinnamon rolls 2 minutes before the cooking time to ensure they don't overcook.
How to Store Cinnamon Rolls
The best way to store cinnamon rolls is to put them in an airtight container or zip-top bag. Use a vacuum sealer to suck excess air out of the container to maintain freshness. They'll keep the rolls from drying out for 2-3 days, and use them as you would fresh ones.
You can also store them at room temperature. To do this, wrap them with aluminum foil and keep them from direct sunlight. This way, you can store them for about three days. 
If you want to store them for longer than that, then you can keep the baked cinnamon rolls in the freezer. To do this, wrap them with aluminum foil and put them in an air-tight container. This way, they can be stored for up to 2 months.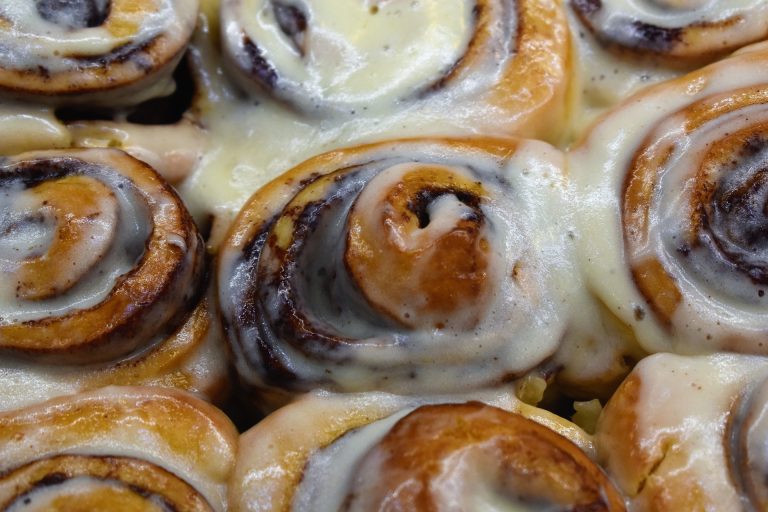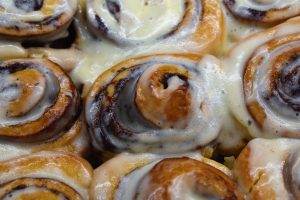 How to Reheat Cooked Cinnamon Rolls
If you've enjoyed a delicious batch of freshly cooked cinnamon rolls but now have too many leftovers, you may wonder how to reheat cooked cinnamon rolls. You can reheat cooked cinnamon rolls at home, and you will need an oven or a microwave.
To maintain moistness and freshness, place a damp cloth over the cinnamon rolls. Add a cup of water to a microwave to add moisture to the rolls. For frosted rolls, reheat them for 30 seconds to 1 minute. 
Preheat the oven to 350 ˚F, and place cinnamon rolls in a baking dish. They should be covered with aluminum foil. Leave the cinnamon rolls in the oven for 7 to 8 minutes. 
However, you can also use a fryer to reheat the rolls. Preheat a fryer to  350 ˚F  and cook for  2 to 3 minutes. 
FAQs
Are cinnamon rolls better in the oven or air fryer?
The air fryer is the best way to bake cinnamon rolls. It's quick, convenient, and has better texture, taste, and appearance than in the oven. 
Can I bake Pillsbury cinnamon rolls in my air fryer?
Yes, you can bake Pillsbury cinnamon rolls in your air fryer. However, we recommend freezing the cinnamon rolls before cooking to retain their original shape. If you want to bake them fresh, place the frozen roll on a baking sheet and cook at 360°F for 8-10 minutes. 
How do you tell if your cinnamon rolls are done?
The color of the rolls is a helpful indicator to tell when they're done. The rolls should be a light golden brown when they're done cooking. They may be overdone if they're too dark; if they're too light, they may not be cooked through.
Why are my cinnamon rolls not fluffy?
When you don't use enough yeast, that dough won't rise to the level it should. Also, if you're using expired yeast or your room temperature needs to be sufficiently warm, the yeast will need to be more active to do its job.
Conclusion
Cooking cinnamon rolls in air fryer is an easy, fast, and delicious way to enjoy a warm treat in the comfort of your home. With just a few simple ingredients, you can have freshly cooked cinnamon rolls ready to enjoy in minutes. 
For those looking to make a delicious treat without all the mess and time associated with baking, air-frying cinnamon rolls is a fantastic way to enjoy a sweet indulgence.