Traditional air fryers can be a better combination of a microwave oven, toaster, and deep fryer for being so versatile. That's one of the key reasons why many people these days find it a worthy investment to spend on a top-class air fryer. But guess what? Most of them will cost you an arm and a leg, which is why it may remain a pipe dream for those who are tight on budget!
Cast your worries aside because today, I've come up with the Aria 10 qt air fryer reviews. Along with a spacious cooking area, it's known to be a versatile device for being compatible with toasting, cooking, frying, and reheating.
In order to learn more about its features, let's go through the entire article.
Quick Specifications of the Aria Air Fryer 10 Qt
| | |
| --- | --- |
| Color | Premium Black and Silver |
| Material | Plastic |
| Total Capacity | 10 Qt. |
| Output Wattage Range | 1700 Watts |
| Range of Temperature | Up to 400 Degrees Fahrenheit |
| Item Weight | 18.0lbs |
| Automatic Shutoff Feature | Included |
| Operation Panel Settings | 8-in-1 Touch Panel |
| Product Dimension | 12.75 x 12.25 x 12.75 inches |
| Airflow Technology | Included |
| Price | Click Here |
In-Depth Reviews of the Aria 10 Qt Air Fryer
Without knowing the detailed features of the Aria Air Fryer, it'll be a tad bit tough for you to decide whether it matches your preferences or not. So, let me describe its unique features right here from head to toe –
Multi-Functional
Versatility comes first, especially for those who are looking for an "all-in-one" air fryer that can do it all. In order to match your taste, the Aria 10 qt. air fryer has got your back! It can be a better alternative to your microwave, deep fryer, convection oven, and toaster for being so multi-functional.
And guess what? The food you'll be prepared by it will be well-equipped with 90% less fat, meaning the meal you're going to have will be pretty much healthy. Let it be roasting, reheating, baking, frying, dehydrating, or cooking, the Aria can serve you all the benefits at once.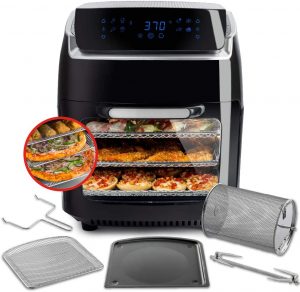 10 Qt. Spacious Cooking Area
Can you guess why it is named a "family-sized" air fryer? Well, the title says it all; in this budget segment, the Aria air fryer gets plentiful space without a doubt. It can smoothly fit a couple of pizzas together with a size of 12 inches.
Including that, you're allowed to prepare multiple sizes of toast, 4lbs chicken, a large cake, and so on within a snap! For ease, the maker has added three mesh trays so that you can reheat several food items together. So easily, you can meet the necessity of your entire family.
XL-sized Display
Just like other standard air fryers out there, the Aria 10 Qt. features a responsive, bright, and extra-large touchscreen display. With its assistance, users can smoothly adjust the food temperature and time at every point. And yes, the maker didn't forget about adding 8 different presents so that you can control the air fryer according to your preferences.
Efficient Airflow Technology
Wave off your worries in terms of ensuring the correct temperature during a cook, as the Aria air fryer comes with airflow technology. With its help, the machine can smoothly offer super-hot air to your desired meal from every angle, ensuring tenderness, juiciness, and satisfying crunch insides.
So it doesn't matter whether you prepare spicy chicken, juicy veggies, French fries, pizzas, or anything else, the air fryer will serve up to 400 degrees F to confirm precision. Depending on what you're cooking, you can switch the temperature accordingly.
Added Safety Features
What if your air fryer turns off automatically after cooking? Well, it adds a bonus for those who are new in the field of operating an air fryer. Considering the duration you set to cook or bake your desired meal, the Aria 10 qt. air fryer will turn off itself when the meal is completely prepared. Consequently, you don't have to apply your guesswork in terms of preparing a dish.
Apart from that, if you open the door, the machine will shut off straight away. It will start working after you close the door by resuming the timer. All credit goes to the automatic turn-off sensor it comes with!
See-through Window and Interior Lamp
Let me disclose one of the unique features of the Aria 10 qt. air fryer: the interior lamp and transparent window. Inside the air fryer, you can notice a particular replaceable lamp attached to illuminate the interior surface, for which you can observe the inner condition of food in the best way possible.
Moreover, its stream-resistant window is expansive as well as transparent, which means you can keep your eyes on the food condition during a cook.
Includes Several Accessories at a Cheap Price
Alongside the Aria Air Fryer, you're going to get a lot of efficient accessories with the product to take your cooking experience to the next level! In order to prepare veggies, meats, and kebabs, the manufacturer offers 10 pieces of skewer attachments (rotatable). No worries if you're a fan of pork and chicken because a single piece of rotisserie attachment will do its job, which is rotatable as well.
What's more? Well, a single rotating cage helps cook nuts, fries, and such small ingredients with ease. Let's not forget about the drip tray that assists in disposing of additional grease without much effort.
For added benefits, you're going to get a colored recipe book filled with keto, vegan, and exclusive recipe guides. Lastly, the user manual will be helpful for assembling the attachments and cages. And you're getting all those facilities without hurting your wallet because the price appears to be reasonable.
What Could Have Been Better?
Here, I've listed the two drawbacks you may notice on the Aria Air Fryer –
Relatively Tough to Clean
There is no secret that added accessories/attachments offer multiple facilities. However, it's equally true that if your air fryer comes with several cages or attachments, then it will be comparatively tough to clean them up individually.
Even though the majority of its stainless steel attachments are dishwasher-safe, non-stick, and free from PTFE, and BPA, many customers claimed they required them to be cleaned with plenty of care to eliminate food residues.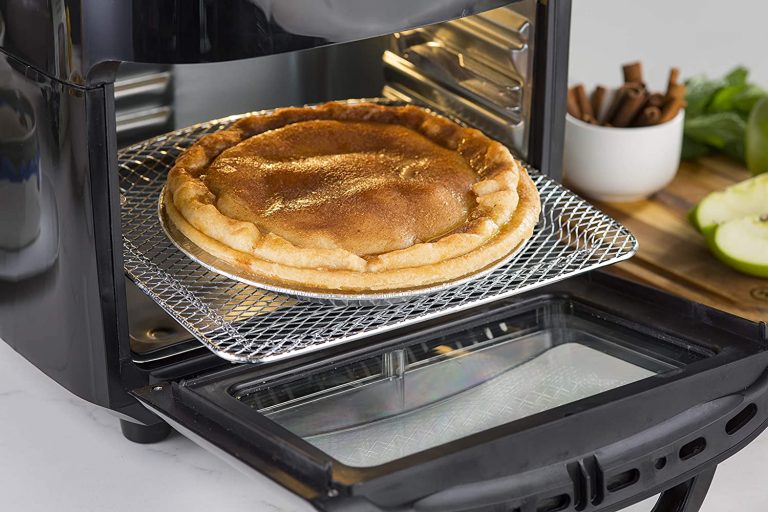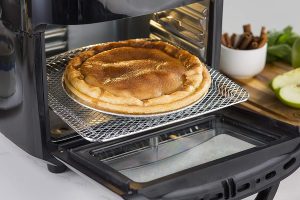 Not Much Durable
For being so affordable, the maker had to use plastic instead of stainless steel as a primary material. Although the build quality isn't poor, it still can't be as durable as steel. But I think you shouldn't think about its durability because with proper care and maintenance, the Aria 10 Qt. Air Fryer can last for a long period.
Conclusion
For those who can't spend a fortune on a microwave oven, high-end toaster, and deep fryer, it's good to spend on such an air fryer that can do almost everything, from cooking to reheating to toasting. Through the Aria 10 qt air fryer reviews, I tried my level best to disclose all of its striking features, helping you understand why it stands out from the competitors in this budget segment.
So except for the cleaning issues and build quality, the Aria air fryer has everything to get a place on your kitchen countertop!
Make sure this fits by entering your model number.
Your New Go-To Appliance: The All-in-1 Aria replaces your deep fryer, microwave, toaster, convection oven, and more while reducing fat in your food by up to 90% and eliminating the need for oil!
Spacious Family-Sized Capacity: Multiple cooking levels allow you to cook for the entire family or all your guests. Fit multiple 12" pizzas, a juicy chicken, sizzling vegetables, a whole cake, and much more!
Buy Now