Chicken sausage is a wholesome protein source prepared with ground chicken. It's rich in protein, zinc, and iron and, on the other hand, low in fat. Additionally, it's famous worldwide for its high and healthy nutrition.
But how to cook chicken sausage? Is it possible to cook chicken sausage at home? Yes, you can cook it in 4 ways: on a skillet, oven, grill, and air fryer.
Luckily, we've cooked the sausages in the mentioned ways with easy and perfect techniques. Let's check them out.
4 Ways of Cooking Chicken Sausage with Step-by-Step Instructions
First, you must arrange the ingredients to cook chicken sausage and prepare it for cooking. Let's look at the ingredients you'll need to cook the mouthwatering chicken sausage. 
Note: We've included the number of ingredients for serving 2-4 people for your convenience.
Ingredients 
4 flavored chicken sausage (if you choose the raw ones, you have to boil them with clean water or chicken stock for 5-8 minutes) 

1 large sliced onion 

1 pinch of Kosher salt 

1 teaspoon of smoked paprika 

2-3 tablespoons of olive oil 

1 red bell pepper 

3 chopped garlic cloves 

10 basil and some parsley leaves 

2 teaspoons of black pepper 
No matter how you cook your sausages, these ingredients will make them better and juicier than you think. You can add more veggies to the ingredients list if you prefer; that's totally up to your choice. 
However, as we mentioned earlier, let's check out the cooking process. We've tried every cooking method to find the most delicious one, and the good news is all of them are tempting.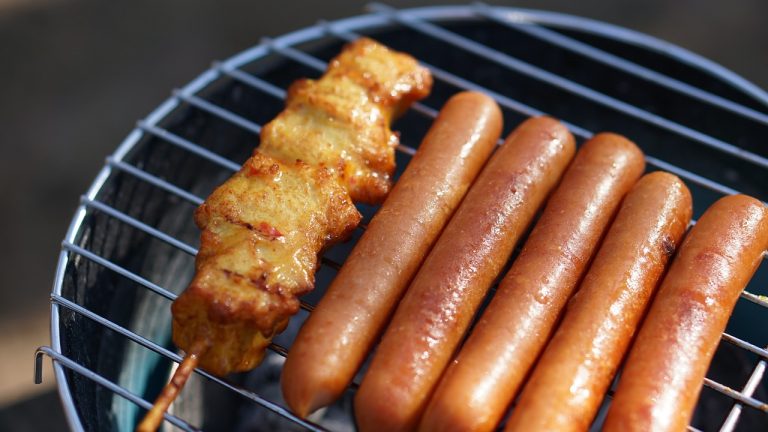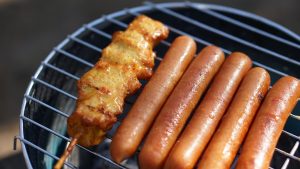 Cooking Chicken Sausage on Cast Iron Skillet or Pan 
This cooking process takes around 8 to 10 minutes and can be an excellent choice for dinner. For cooking with a skillet or pan, you should always choose the large one because it helps to cook on every side properly. 
Cooking Process:
Slit the sausage with a fork for better marination. Brush one tablespoon of olive oil in the skillet. 

Pour the pan in 1-inch water and let the sausage boil on medium flame. Bring down the flame after a while. Take the sausage out of the pan. 

Prepare the other ingredients like onion, bell pepper, chopped garlic cloves, and other veggies in the pan with one tablespoon of olive oil. Add kosher salt, paprika, and black pepper. 

Next up, add the cooked sausage to the pan. Keep flipping with sauteed veggies and spices. 

Lastly, add basil and parsley leaves and cook for 1 minute. Now you can start serving the tasty sausage and veggies on plates. 
Cooking Chicken Sausage in Microwave Oven 
If you want to bake the sausage in your oven, it will take approximately 5-6 minutes. In that case, you should take the overproof plate. Here are the instructions for cooking the luscious chicken sausage. 
Cooking Process:
First of all, brush olive oil on an ovenproof plate. Place the sausage, bell paper, and onion on it. Add the spices all together over the sausages on every side. 

Again, brush olive oil over the sausages. Keep the plate in the oven and heat it at 145°F for 2 minutes. After that, open your oven, flip the sausages onto the other side and keep it for another 2 minutes. 

Turn off your oven and place the sausages on the serving plate. Garnish with a handful of parsley leaves, and your sausages are ready to eat.
Cooking Chicken Sausage on Grill 
Grilling can be a fantastic option for hangouts and holiday dinners. The grilling time of chicken sausage is around 20 minutes.
Luckily, you'll require only flavored sausage for grilling. Regardless, you can marinate it with some spices if you want. 
Cooking Process:
Take the sausages and poke holes with a fork to make them juicier and more flavorful. Brush one tablespoon of olive oil on the sausages. 

Place them on the grill pan and set them at 350 °F. Keep grilling for around 12 to 15 minutes. The most important thing you must do is rotate the grill to cook appropriately in 160 °F heat. 

Finally, take the juicy and finger-licking sausages on a bun or have them with sauteed vegetables or barbecue sauce.
Cooking Chicken Sausage on Air Fryer 
To be honest, it's one of the best cooking methods to keep the sausages moist and juicy. Plus, it'll require less oil and only 20 minutes to prepare a mouthwatering dinner item. 
Cooking Process:
Before cooking on an air fryer, you must preheat it to 370°F for 5 minutes. Nevertheless, settle the sausages on the fryer basket. You can add 1½ spoons of olive oil at this point if you want. 

Spread black pepper, kosher salt, and paprika over the sausages and keep it for 3 to 4 minutes. Then rotate the sausages, and air fry them for 3-4 minutes. Now serve it with sliced onion and bell pepper. 
Cooking Tips for Chicken Sausage [From Experts]
Keep your sausages in your freezer and take them out for at least 30 minutes before cooking. 

You must be careful when placing your dish tray on the oven, grill, or air fry. 

However, you can marinate the sausages for 20 minutes. It makes the sausages more delicious. 

Avoid using too much oil while grilling, baking, or frying.

Thus, you can use butter instead of olive oil. 

Check the sausages are cooked appropriately before serving. Undercooked sausages are harmful to health. 
How to Store Cooked Chicken Sausage 
Are you thinking about what you can do with your leftover cooked sausage? Don't worry, mate! The good news is you can easily store the cooked chicken sausage in your refrigerator for 3 to 4 days. 
Take an airtight box, place the sausages, close it properly and keep it in the refrigerator. Additionally, cooked chicken sausage can last for one month in the freezer. The cooked sausage can last 2 hours at room temperature. 
You'll require a heavy-duty plastic zipper bag or an aluminum foil box to store sausage in your freezer. Pack the leftover sausage and keep it safely in your freezer, and that's it. 
Moreover, you can store the boiled chicken sausage for 15 days in your refrigerator and 2 to 3 months in your freezer.
How to Reheat Frozen Chicken Sausage 
You can reheat your cold chicken sausage within 10 minutes. The easy and quick way to reheat chicken sausage is in the oven. 
Preheat your oven to 350°F, and after that, place your sausages on the ovenproof plate or wrap them with foil paper. Heat the sausages in the oven for 10 minutes, and it's done. In this way, you can heat it several times. 
FAQs 
What is a good side dish with chicken sausage? 
The best appetizing dishes with chicken sausage are the bun, sauteed vegetables, apple sauce, beans, potato salad, cheddar cheese, mashed potatoes, pasta, and noodles. 
How do you know when chicken sausage is cooked?
When you notice the brown crispiness, it is cooked properly. Otherwise, you must cook it for more minutes for the perfect moisture and juiciness. 
What happens if sausage is slightly undercooked?
An ill-prepared chicken sausage can cause food poisoning. You can notice the pinkish color inside the sausage if it's undercooked. It wouldn't be wise to eat uncooked sausages. 
Bottom Line
That's it. We're done cooking. After this sensational session, we believe you won't have to look for how to cook chicken sausage again. 
So what are you waiting for? Go to the nearest market, get some sausages and try these recipes as soon as you can. Following any of the techniques can make delicious and mouthwatering chicken sausages. 
Enjoy your tempting chicken sausage this holiday.