Potatoes are quite cheap to get, but it feels excellent to have a good baked potato. It's cheap, delicious, and barely takes time. And although most people bake it in a regular oven, it can be easier to bake in a toaster oven. 
So how to make a baked potato in a toaster oven? Just preheat the oven to 400F, poke holes in the potato and season it to your liking, place it on the rack, and set a timer for 45 minutes. After that, you're basically done.
But there are some steps in between that can make the potato much tastier. So today, we'll cover in detail all the steps you need to follow to get the most delicious baked potato from a toaster oven. Let's begin.
How to Make Baked Potato in A Toaster Oven
It's actually very easy to make a baked potato in a toaster oven, and it doesn't take that many steps. But first, you need to make sure you have these ingredients —
4 potatoes

1 tablespoon of preferably extra virgin olive oil

Salt & Pepper
Of course, the ingredients can vary depending on your liking but this is what you generally need. But with the ingredients done, these are all the steps you need to follow –
First, heat the toaster oven to 400 degrees Fahrenheit. 

Wash your potatoes properly, as the skin can get very dirty. 

Dry your potatoes in a towel.

Poke several holes in your potato with a fork or knife. 

Apply extra virgin olive oil with salt and pepper to your potato to your liking.

Place the potatoes on your baking rack, making sure they aren't touching the sides of the rack. 

Put the rack in and set a timer for 45 minutes.

Take your potatoes out after the time ends, and check whether they're crispy and tender. If not, keep it for 15 more minutes. 

Cut the potato in the shape you want, preferably a straight slit or a zig-zag pattern.

 Gently squeeze the sides, and put optional toppings to your liking such as more salt, pepper, or cheese. 
After following these simple steps, you can enjoy your delicious potato! It'll only take around 1 hour in total if you take 15 minutes to prepare them and put them in the oven for 45 minutes. Overall, it's simple, quick, and tasty.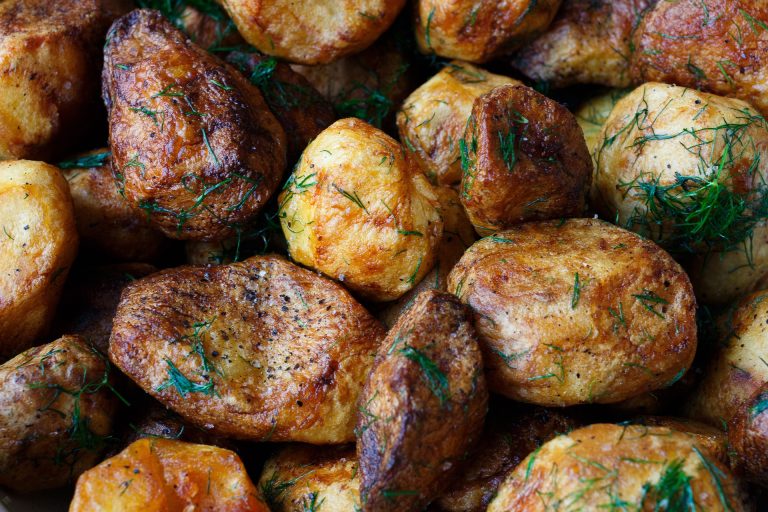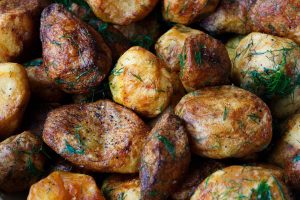 Is It Necessary to Season Your Potato Before Baking?
A lot of people don't want to spend much time having their baked potato, and they want it as quickly as possible. But a lot of people put salt and pepper on the potato skin along with olive oil before baking, which takes time.
And although this process isn't mandatory, it can enhance the flavor of your baked potato. Along with that, whenever you season your potato before baking it the skin will be very crispy.
So generally you should always try to season your potato with a little bit of salt and pepper beforehand, as it'll add more flavor and crispiness. But if you don't want the salt due to medical reasons, then it's not necessary. 
What Kind of Potato Tastes The Best Oven Baked?
When you're baking a potato with a toaster oven, it generally depends on your personal liking of the type of potato you want. But you should always try to go for potatoes with thicker skin.
This is because the thick layer of skin outside will act as a sort of barrier, keeping all of the great and butter-like flavors of the potato inside. It'll be crispy, too. Russet and sweet potatoes would work best for oven baking. 
Do You Need to Put Tin Foil on Your Baked Potato?
A lot of the time, you might see people cover their potatoes in tin foil before putting them in the oven. It's quite common, but it's actually not that great. 
This is because although the potato will still be cooked to perfection, you can't achieve the crispy skin you would usually get, and it would be soft skin.
It's also not safe to use tin foil for baked potatoes as it can result in a health hazard called botulism. So if you prefer softer skin, you should just use aluminum foil. It still keeps the potato moist and the skin soft and safe. 
What Are The Most Common Toppings For A Baked Potato?
You could really use anything you want as a topping for your baked potato. But if you don't know what you should put, here are all the vegan and non-vegan toppings that taste amazing with a baked potato —
Vegan Toppings
Dairy-free butter

Baked beans

Dairy-free cheese

Vegan bacon

Dried herbs
Non-Vegan Toppings
Shredded or cheddar cheese

Sour cream

Chopped bacon or ham

Beef chili

Shredded buffalo chicken. 
Is It Safe to Reheat A Baked Potato?
Yes, it's safe to reheat a baked potato and it's actually quite easy to do, and you'll need your toaster oven again. Just preheat the oven to 400℉ like before, and leave the potato to heat up for 20 minutes. 
But you don't always need to reheat your old leftover baked potatoes, and there are two common ways you could use them. 
Firstly you could just take the potato, smash it, and fry it in a cast iron skillet with some oil. This can work as a base for your sandwiches or burgers, and it goes well with fried eggs. 
Aside from this, you could also try and use them for making fries. Chop your leftover baked potato in 1-inch thick proportions, and place them in your air fryer at 450℉ for around 6 minutes. Then you could season it with pepper and salt, and you're good to go. 
Frequently Asked Questions (FAQs)
Can you use leftover baked potatoes for mashed potatoes?
Yes! You could just smash your potato up and add milk, salt, butter, and all the other ingredients you might use for your mashed potato. Baked potatoes are actually excellent to use for mashed potatoes. 
Why is my toaster oven temperature inaccurate?
Sometimes, your toaster oven temperature might vary from someone else's temperature even on the same settings. This is especially common in older ovens. In this case, you could use an oven thermometer to measure the heat instead.
How many baked potatoes should I cook at a time in my toaster oven?
Generally, you should cook as many potatoes at a time as you can fit without touching the sides of your toaster oven. Even if you can't finish and there are leftovers from the potatoes, you could use it for tons of other dishes as it's very diverse and easily used.
Conclusion
The question of how to make a baked potato in a toaster oven is actually quite simple, and it can only take a maximum of 1 hour. You just need to prepare 4 potatoes first, season them, poke a few holes in them, and place them in your toaster oven at 400F for 45 minutes.
This will leave you with crispy skin and a soft, buttery inside of the potatoes. But if you prefer a more soft texture for the outside of the potato, you could try covering it in aluminum foil. 
Afterward, you can just cut it up and add your favorite toppings such as shredded cheese to enjoy. With all that said, cheers!